by Charles Hugh Smith, Of Two Minds: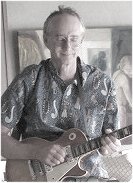 Rather than fight a system designed to thwart us, we need a model for our own lives that bypasses the perverse tides and obsoletes the impediments in our path.
Everyone wants to change their lives for the better (or preserve what's positive), and this is relatively straightforward in a healthy system with positive incentives and a transparent, productive set of rules and feedbacks.
But what if the system is broken? How do we change our lives for the better in a dysfunctional system of unearned privilege and perverse incentives? Needless to say, it's difficult, and this is why we see a rise in inward-directed solutions.