by Charles Hugh Smith, Of Two Minds: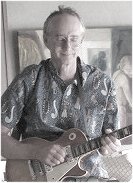 All of these guarantees and redundancies are as illusory as the "unsinkable" technologies of the Titanic.
The past three decades of global growth are rarely attributed to luck: it's all the result of our brilliant fiscal, monetary and trade policies. Those in positions of wealth and power are delighted to take credit for this tremendous success, but as a general rule, the more knowledgeable you are and the higher up the food chain you are, the greater your awareness of the role of luck in any unbroken chain of success.