by Pam Martens and Russ Martens, Wall St On Parade: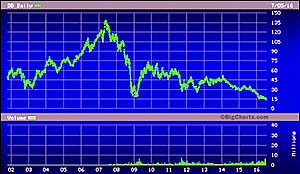 Yesterday, Wall Street mega bank, JPMorgan Chase, was the biggest percentage decliner in the Dow Jones Industrial Average, losing 2.79 percent. Goldman Sachs, another Dow stock, was third in line after Caterpillar, losing 2.56 percent. But that performance was absolutely mild compared to how other global bank stocks that aren't in the Dow performed.
Morgan Stanley lost 3.55 percent; Citigroup shed 3.30 percent; while Deutsche Bank, a German bank heavily interconnected with Wall Street banks, that trades on the New York Stock Exchange, touched $13.34 intraday – its lowest share price in more than 30 years. Deutsche Bank closed the day at $13.40, down 3.67 percent. A U.S. unit of Deutsche Bank, which is designated a global systemically important bank (G-SIB), recently failed its stress test according to the Federal Reserve.