by Jack Burns, The Free Thought Project: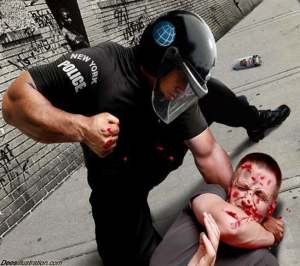 Decatur, GA — Katie McCrary is, is a homeless woman doing whatever she can to survive. But while she may have a criminal history, she, like other law-breakers, still deserve to be treated humanely and with some sense of decency. But that didn't happen, according to critics, when a Dekalb County police officer struck her with his baton nearly too many times to count.
Police were called to the scene of a local convenience store at the corner of Glenwood and Line St. in Decatur last month. McCrary had been propositioning patrons for money. Others say she's frequently there and may have mental issues.