by Mike Gleason, Money Metals: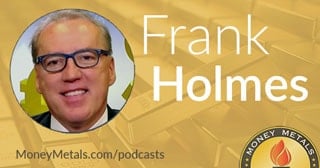 Welcome to this week's Market Wrap Podcast, I'm Mike Gleason.
Coming up we've got a wonderful interview with Frank Holmes, CEO of U.S. Global Investors. Frank talks about some key developments in the gold community and why he believes a key merger in the gold mining industry could be a good indicator of a market bottom. He also shares his thoughts about Vanguard's recent decision that leaves many gold investors hung out to dry. This is a must-hear interview with Frank Holmes, coming up after this week's market update.
Precious metals markets struggled this week against the forces of rising bond yields and a stronger U.S. dollar. Where have we heard that before? Despite these headwinds, gold is holding up pretty well as it trades around the $1,200 level in a narrow range where it's been locked in for the past month.
Click HERE to listen