by Pam Martens and Russ Martens, Wall St On Parade: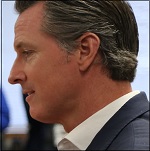 The Dow Jones Industrial Average was down by 960 points this morning and then began to stage a strong rally. That rally unraveled on news that came out of the press conference held by California Governor Gavin Newsom.
The Governor, a Democrat, seemed to go out of his way to stress that his administration has been working closely with the Trump administration in addressing the coronavirus outbreak. He refused to criticize Trump when questioned by reporters.