by Pam Martens and Russ Martens, Wall St On Parade: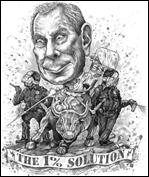 Michael Bloomberg served three terms as New York City's Mayor from January 2002 to January 2014. In 2009, the New York Times reported that Bloomberg had spent "$261 million of his own money" in order to get elected to those three terms as Mayor. When Bloomberg took office, there was a two-term limit in place which had been voted on in public referendums in 1993 and 1996. But two years before Bloomberg's second four-year term ended, he asked the City Council to repeal the two-term limit to allow him to serve a third term.
Because voters had already expressed their will in a public referendum twice, numerous members of the City Council felt it would be unethical for them to repeal that decision and that the matter should be determined by another voter referendum. But the City Council went forward with their vote in 2008, repealing the will of the people and giving Bloomberg his third term. The City Council's vote was 29 in favor, 22 against. A Quinnipiac University poll at the time showed that 89 percent of New York City voters felt the issue should have been decided by a voter referendum, not the City Council.