by Stefan Gleason, Money Metals: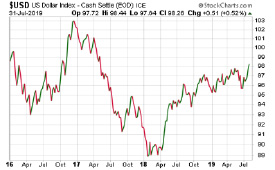 Following months of cajoling by the White House, the Federal Reserve finally cut its benchmark interest rate. However, the reaction in equity and currency markets was not the one President Donald Trump wanted – or many traders anticipated.
The Trump administration wants the Fed to help drive the fiat U.S. dollar lower versus foreign currencies, especially those of major exporting countries.
Instead, the U.S. Dollar Index rallied throughout July ahead of the expected rate cut and continued rallying after Fed chairman Jerome Powell made it official on Wednesday.