by Chris Menahan, Information Liberation: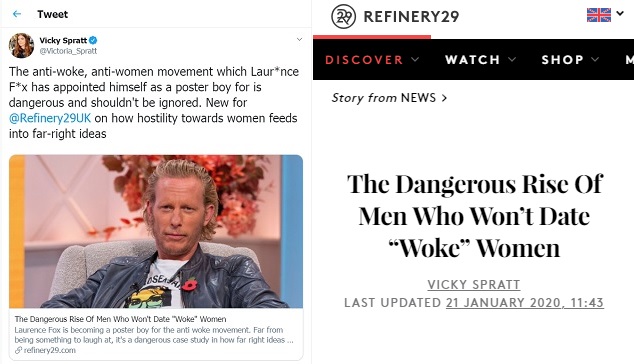 If you don't want to date "woke" women you're pretty much a terrorist, that's the suggestion in UK journo Vicky Spratt's latest column for Vice Media outlet Refinery29.
Spratt writes in Refinery29, "The Dangerous Rise Of Men Who Won't Date 'Woke' Women":
Laurence Fox […] does not date "woke" women who he believes are being taught that they are "victims", irrespective of whether they are right or not. He thinks that it's "institutionally racist" to tell the story of the First World War in a racially diverse way, irrespective of the fact that Sikh soldiers absolutely fought for Britain. And he also doesn't believe in white privilege, irrespective of the fact that he works in a painfully undiverse industry, was privately educated and comes from a wealthy acting family which is nothing short of a dynasty.