by Pam Martens and Russ Martens, Wall St On Parade: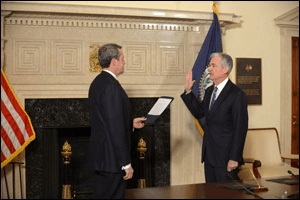 What good is being the President of the most powerful nation on earth if you can't humiliate people on Twitter and fire them if they refuse to do your bidding (even if the law mandates their independence from politics.) This appears to be the thinking of Donald Trump, the sitting President of the United States. The Chairman of the Federal Reserve, Jerome Powell, is the latest person to come into the President's cross-hairs.
Yesterday, Bloomberg News broke the story that "In February, the White House counsel's office examined the legality of stripping Powell of his chairmanship and leaving him as a Fed governor." The review of Trump's legal options occurred "as the president repeatedly expressed public frustration with the Fed's interest-rate increases," according to the article.