by Geoffrey Grinder, Now The End Begins: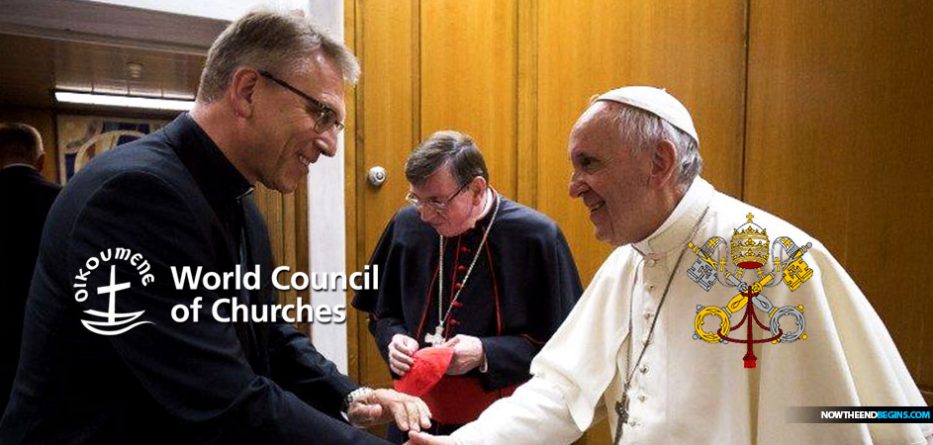 THE WORLD COUNCIL OF CHURCHES HAS ANNOUNCED A JOINT VENTURE WITH THE VATICAN TO CO-HOST A MEETING NEXT SEPTEMBER ON "MIGRATION, XENOPHOBIA, AND POLITICALLY MOTIVATED POPULISM."
"And I heard another voice from heaven, saying, Come out of her, my people, that ye be not partakers of her sins, and that ye receive not of her plagues." Revelation 18:4 (KJV)
EDITOR'S NOTE: As Israel was becoming a nation again back in 1948 in fulfillment of Bible prophecy, Billy Graham was asked: "What do you expect the World Council of Churches to do this August when they visit Copenhagen?" He replied: "I believe they are going to nominate the Antichrist!" That was back when Billy was mostly a Bible believer and had no issue with drawing the line in the sand when it came to exposing and preaching against false religions and movements like the WCC. But by 1952 and all into the 1960's , Graham left his strong doctrinal stance and made alliances with not only the WCC but with the Vatican as well. Today we rightly recognize Billy Graham as the father of the Laodicean eccumenical movement. In 2018, the globalist group World Council of Churches is a proud partner with the Whore of Babylon as they seek to preach the George Soros gospel of open borders and forced migration of illegals. You can find dozens of articles and videos showing Pope Francis preaching on climate change, prosperity, nuclear war, wealth redistribution, or any other social justice topic you can think of. But you will never hear him preach the gospel of the grace of God that lost people might be saved. Not one time. But you will hear Francis say that a 'personal relationship' with Jesus Christ is 'dangerous and harmful'.