by Geoffrey Grinder, Now The End Begins: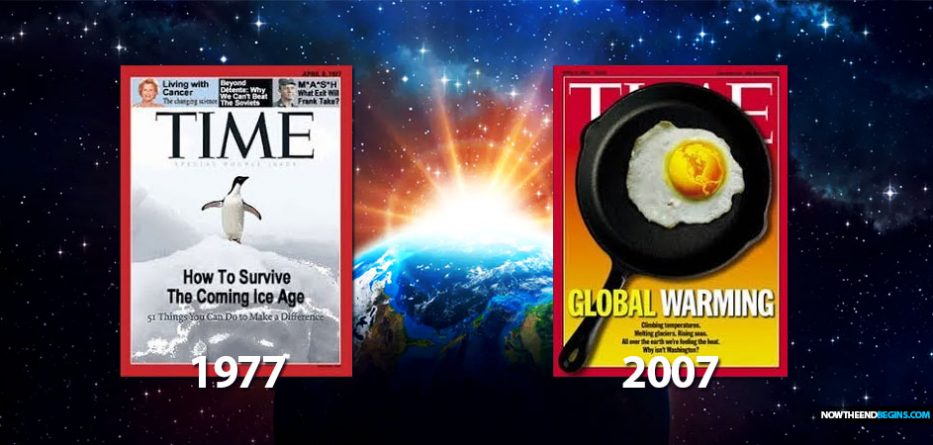 CLIMATE CHANGE IS OVER. NO, I'M NOT SAYING THE CLIMATE WILL NOT CHANGE IN THE FUTURE, OR THAT HUMAN INFLUENCE ON THE CLIMATE IS NEGLIGIBLE. I MEAN SIMPLY THAT CLIMATE CHANGE IS NO LONGER A PRE-EMINENT POLICY ISSUE. ALL THAT REMAINS IS BOILERPLATE RHETORIC FROM THE POLITICAL CLASS, FRIVOLOUS NUISANCE LAWSUITS, AND BUREAUCRATIC MANDATES ON BEHALF OF SPECIAL-INTEREST RENEWABLE-ENERGY RENT SEEKERS.
EDITOR'S NOTE: As a teenager in the 70's, how well I remember the headlines blaring the news that man-caused global freezing was about to take place. Yes, we had fake news back then, too. The reason stated at that time, according to science, was our overuse of aerosol spray products which was eating a hole in the ozone layer. This was going to bring about another ice age. Hmmm, still waiting as I purchase products in the supermarket in aerosol containers. Flash forward to the Al Gore Age, with the PowerPoint that scared the Liberal world into, no, not stopping global warming climate change, but making him fabulously wealthy many, many times over. The Millennial generation, who are famously long on outrage and short on history, were easy pickings for the climate con man from Tennessee. Favorite moment from the global warming climate change hoax? When Al Gore sold his television channel, Current TV, to an Arabian petroleum company. Wait, aren't oil companies the 'bad guys"? Ho, ho, ho, don't you know…people love to be fooled.