by Mark Anthony Taylor, @Shyreman: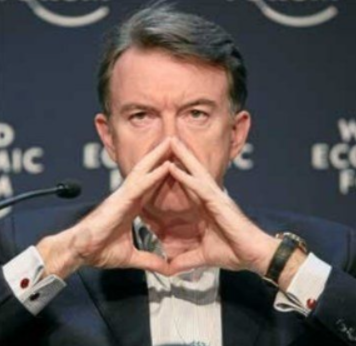 • All of the heads of the UK judiciary are involved in a paedophile ring.
• Parliament covered it up.
• Theresa May arranged it.
• The same judiciary covered up Russian money laundering.
• The Skripals may have been poisoned on the orders of paedophiles to cover up the crimes of the judiciary.
Illuminati Gay Peter 'Mandy' Mandelson, Commissioner of EU, allegedly had his rent-boy murdered and butchered
There is a suspicion that MI-5 blackmailed Donald Trump to stop him taking down the DNC via the scandal of Pizzagate. Pizzagate via its various nodes links into the British aristocracy. It is thus unsurprising that Theresa May and MI-5 appear to be at the very top of the Pissgate conspiracy – our government controlled media are still peddling the Russian election-rigging narrative. When Parliament expresses concerns that the Russians rigged Brexit, it is to give credibility to the notion that the Russian recidivists rigged the US general election. There is hardly ever a bad word to be said of the Clintons by the BBC, and never so from Parliament. While the relationship between George Dubya Bush to Tony Blair is often visited, Blair's stronger and more personal relationship with the Clintons is blanked out. In British politics, the Clintons are the paedophile elephant in the room.