by John Rubino, Dollar Collapse: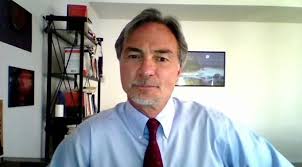 Stocks have completely recovered from their flash bear market of late 2018.
But now they face a hard question: Can already record high prices continue to rise in the face of falling corporate profits?
Let's start with the "falling corporate profits" part:
A business generates improving profits when the things it sells rise in price faster than the cost of production. So on the following chart you want labor costs to be flat or falling, and the other line – a measure of inflation – to be rising. But lately the opposite is true.