by Pam Martens and Russ Martens, Wall St On Parade: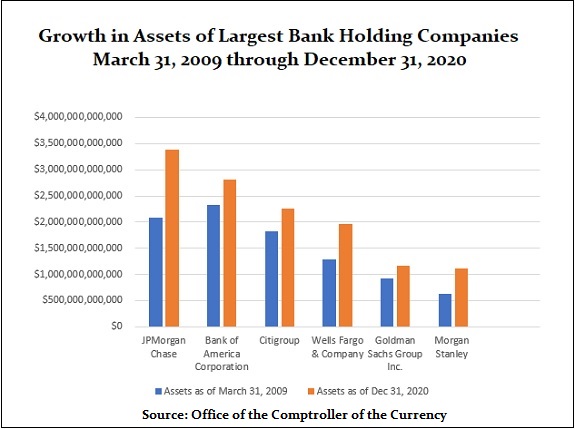 Jamie Dimon, Chairman and CEO of JPMorgan Chase, has found a new magic hat trick: how to shrink and grow at the same time.
Between March 31, 2009 and December 31, 2020, the assets at JPMorgan Chase's bank holding company grew by an astonishing $1.3 trillion or 62.9 percent according to data archived at the Office of the Comptroller of the Currency (OCC).
That stands in striking contrast to the next largest bank holding company in the U.S., Bank of America, whose assets grew by just $496.2 billion or 21 percent over the same period.
The first thought that might come to your mind is that perhaps this staggering growth in assets came as a result of the Federal Reserve allowing JPMorgan Chase to purchase Bear Stearns and Washington Mutual during the 2008 Wall Street crash. That can't be the reason, however, because the Bear Stearns purchase occurred in the spring of 2008 and the purchase of Washington Mutual took place on September 25, 2008. We used the date of March 31, 2009 to avoid any confusion over these two acquisitions.