by Wolf Richter, Wolf Street:
An ugly red flag for all of California goes up.
The labor force in California fell by 19,900 in June from May on a seasonally adjusted basis, the second month in a row of declines. Nonfarm employment fell by 21,300. When was the last time when the labor force and employment fell in that period? 2009.
The California Employment Development Department also reported on Friday that year-over-year, the labor force still rose by 52,600 and employment by 198,000. That looks like a lot, but it was the smallest increase for any year-over-year period since August 2011.
This is an early red flag. But it still looks pretty good compared to what is transpiring in the San Francisco Bay Area. By some measures, there are nine counties in the Bay Area. We'll look at the six counties that are part of the tech-jobs machine of San Francisco and Silicon Valley.
In San Francisco, nonfarm employment dropped to 542,100 jobs in June. This is the number of people working in San Francisco regardless of where they live, including the many who commute from other areas. This was down 5,100 from the employment peak in December and the lowest since June 2016.
The labor force, the number of people who live in San Francisco and are deemed to be in the labor force, was 559,800, up just 1,800 year-over-year. The chart below shows how the stunning employment boom that created 131,000 jobs from the beginning of 2010 through the end of 2016 has come to a screeching halt: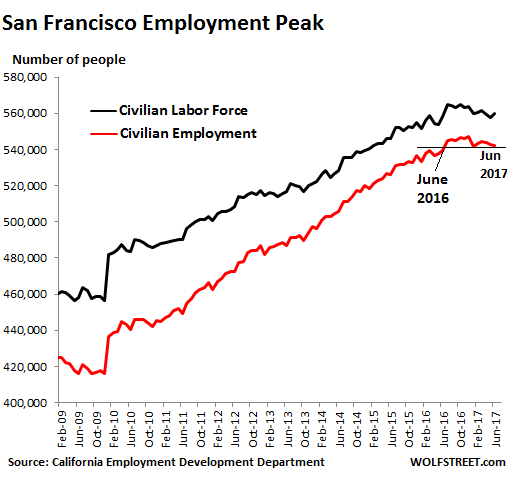 Over the seven years of that boom, employment increased by 31.6%! Employers in the city created on average 18,800 jobs per year!
But the for the 12-month period through June, employers created only 3,400 jobs, the slowest 12-month gain since April 2011. The chart below shows the rolling 12-month employment gains (blue) and losses (red) since January 2009. Note the trend from the job-creation peak in the fall of 2014 (for better visibility, I marked June in brown):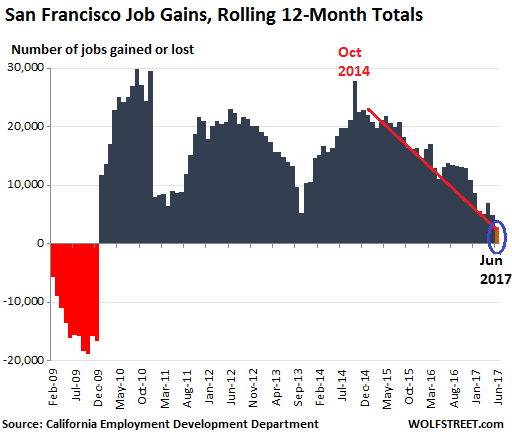 San Mateo County, just south of San Francisco on the Peninsula, is part of Silicon Valley. Given the heated rhetoric about Silicon Valley, the place should be hopping. Alas, the work force in June, at 448,400, was up only 800 souls from a year ago. The number of jobs in June fell 4,200 from the peak in December to 435,300, the lowest since June 2016 and barely above March 2016: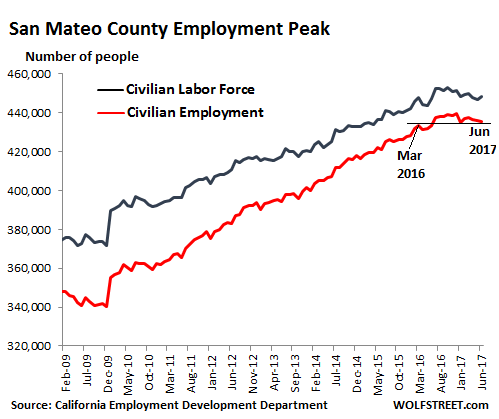 Only 2,100 jobs were created in the 12 month period, the lowest increase since the Great Recession: