by Jeff Berwick, The Dollar Vigilante:
So much for the cryptocurrency correction. Two days ago when bitcoin hit nearly $1,800 and the market capitalization of all cryptocurrencies nearly touched $60 billion, I wrote in my article entitled, "Coinpocalypse", "I am now thinking it has dropped enough to start wading back in."
And, it appears I nailed it almost down to the minute. As soon as that article went live, the cryptocurrencies began staging a comeback. And they continue to do so as we speak.
The total market capitalization of all cryptocurrencies increased from $60 billion to currently $88 billion for a nearly 50% gain in just the last 48 hours.

Bitcoin is up over 10% in the last 24 hours while Ethereum has skyrocketed 38% and all major cryptocurrencies are heavily in the green.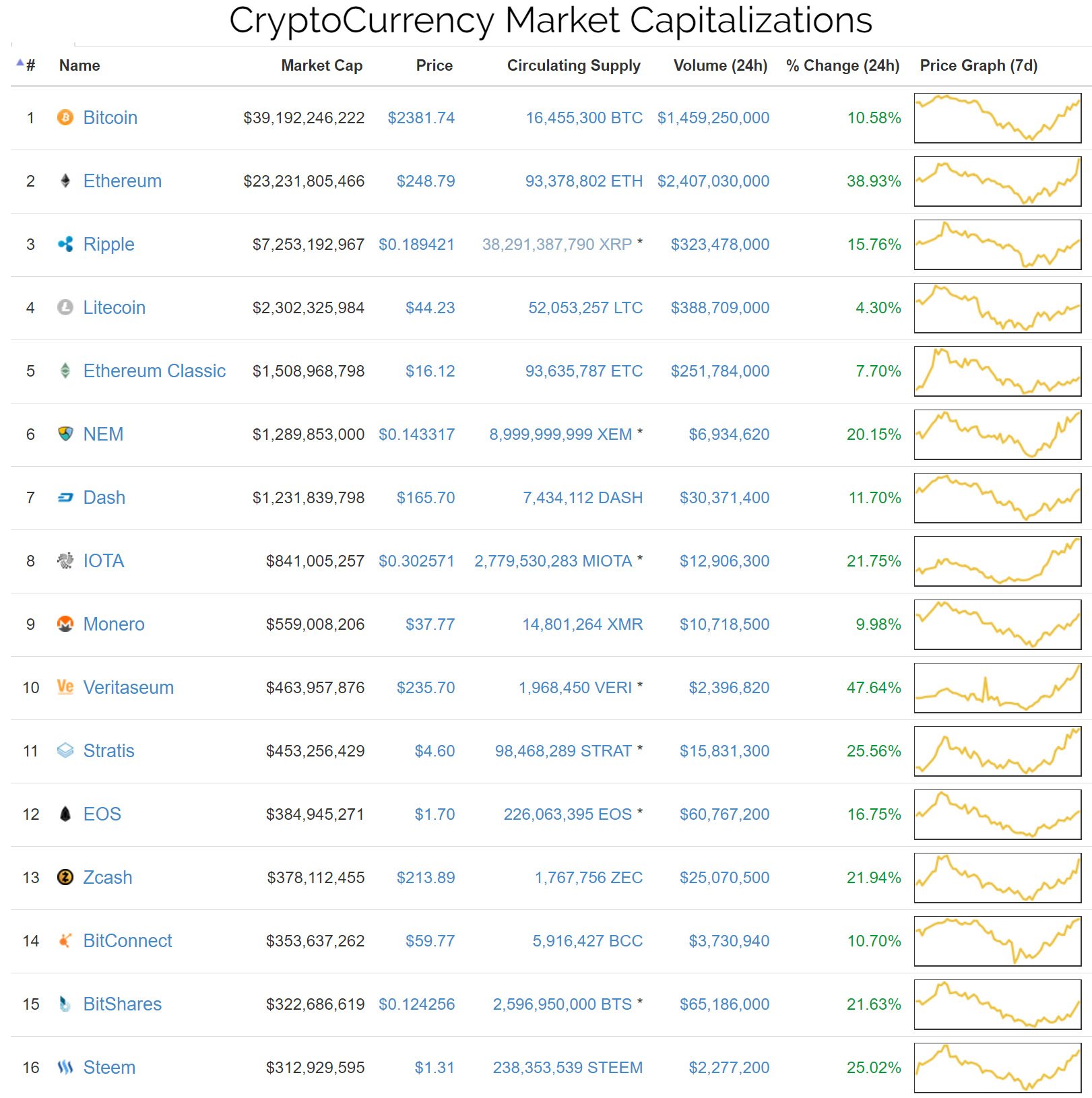 Of course, in the midst of the pullback, Mike "The Health Ranger" Adams was quick to jump on the opportunity to throw up an article entitled "Health Ranger warns: Bitcoin collapse now under way… has already plunged nearly 40% from its high." So much for that. He is already wrong just 24 hours later. Really, stick to the vitamins.
In his most recent, totally wrong article, he calls bitcoin an "unraveling Ponzi scheme."
If he understood the history of Charles Ponzi and how bitcoin actually functions he wouldn't be calling it that. Bitcoin cannot be a Ponzi scheme because:
Unlike Ponzi schemes, Bitcoin will still have value and continue to function even if no new participants join the ecosystem. The purpose of using bitcoin isn't to recruit new market participants.
And there is no centralized entity that funnels money up to the top.
The first main point in Mike's article he warns to remember is: "Bitcoin isn't backed by gold."
Yeah, no one ever said it was Mike. Thanks for the warning though.