by Wolf Richter, Wolf Street:
Houston is recovering from the oil bust. Didn't consumers get the memo?
Auto sales in Houston, whose economy had been battered by the oil bust, should be turning around from their Financial-Crisis-type levels, but they just got worse: New vehicle sales plummeted 26% in June from a year ago, with car sales getting totally crushed and even trucks sales plunging.
For the 12-month period through June, auto dealers sold 284,085 new vehicles, down 16.8% from the same period last year, and down 25% from the levels in late 2015 and early 2016, before the oil bust began clobbering consumers and their desire to buy a new car or truck. Sales are now back to the same level as in January 2009 (chart by the Greater Houston Partnership, red marks added):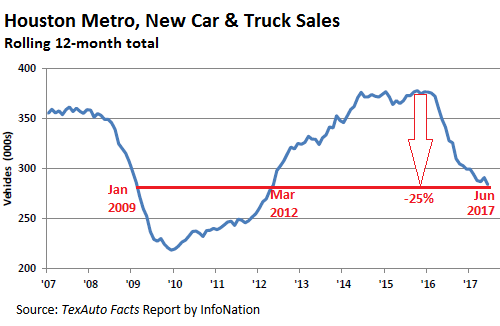 The thing is, on paper, Houston has been recovering from the oil bust that has, at least in Texas, once again turned into an oil-drilling boom, with billions of dollars once again flowing from Wall Street into shale oil plays, particularly into the Permian. The Texas rig count soared to 463 operating oil-and-gas drilling rigs in the week ending July 7, according to Baker Hughes, up 130% from a year ago!
In line with this renewed activity, the Houston Purchasing Managers Index, at 51.8 in June, has been in growth mode (above 50) for months, according to the Greater Houston Partnership. In June a year ago, at 43.7, it depicted a sharp contraction.
Building contracts, which had collapsed last year, are recovering, with total contracts up 47% year-over-year in May, and with non-residential building contracts skyrocketing 121% from the depressed levels a year ago.
Home sales are up 8% from a year ago, the median price is up 3%, but listings are up 16%, indicating that there might be supply pressures coming down the line.