by Greg Hunter, USA Watchdog: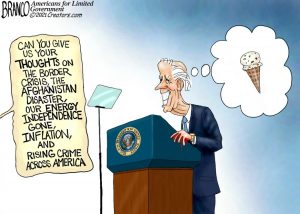 The results are in, and the Arizona audit of Maricopa county shows massive fraud in a state Joe Biden "won" by just 12,000 votes.  The big numbers include 173,000 missing votes and 96,000 so-called "Ghost" votes.  Keep in mind, the Maricopa County Board of Supervisors ignored subpoenas and did not hand over all the data asked for by the AZ legislature running the audit.  Will Senator Mark Kelly be recalled?  Will the 2020 Presidential Election in that state be decertified?  All these questions will be answered in the not-to-distant future.
VP Joe Biden is attacking the unvaxed in a new Executive Order (EO) mandating vaccines or weekly CV19 tests.  Some are already saying this EO is totally unconstitutional.  What happened to the Democrat saying "My Body, My Choice?  I guess when it comes to experimental vaccines, you get no choice.