by Pam Martens and Russ Martens, Wall St On Parade: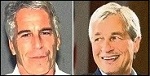 After much delay and legal protests by JPMorgan Chase, its Chairman and CEO, Jamie Dimon, was forced by a Manhattan federal court to testify under oath in a deposition about what he personally knew about the bank's long-term customer relationship with child sex trafficker Jeffrey Epstein. (Epstein died in a Manhattan jail on August 10, 2019. His death was ruled a suicide by the medical examiner.)
The deposition was held last Friday, May 26, at the offices of JPMorgan Chase in Manhattan. In a surprise move, opposing counsels agreed yesterday to release the transcript of the deposition, with some segments marked as sensitive and redacted.
TRUTH LIVES on at https://sgtreport.tv/
The deposition arose as a result of two lawsuits being heard by Judge Jed Rakoff in the U.S. District Court for the Southern District of New York. One lawsuit is on behalf of an alleged sexual assault victim of Epstein, Jane Doe 1. The other lawsuit was brought by the Attorney General's office for the U.S. Virgin Islands (USVI) where Epstein maintained a secluded compound on a private island he owned.
According to Dimon's version of events, he lived a cloistered existence in a corner office on the 48th floor of 270 Park Avenue where even the executives who directly reported to him and worked only "a couple hundred feet" away from his office, never shared with Dimon the bank's many years of internal investigations about Epstein's massive cash withdrawals from his accounts at the bank, that sometimes averaged more than $20,000 to $40,000 a month, or its investigations of Epstein's sex trafficking of underage girls. According to the lawsuits, Epstein had accounts at the bank from 1998 to 2013, at times amounting to hundreds of millions of dollars.
According to Dimon, even the former Director of the Division of Enforcement at the Securities and Exchange Commission, Stephen Cutler, who became General Counsel at JPMorgan Chase in February of 2007, worked in the office next door to Dimon and reported to Dimon, didn't share his numerous objections with Dimon to keeping the Epstein accounts at the bank.
An email was introduced by opposing counsel during the deposition, showing that as far back as 2011, Cutler had written in an email referring to Epstein that "This is not an honorable person in any way. He should not be a client." According to the deposition transcript, it was two executives who worked on the 48th floor with Dimon, Jes Staley and Mary Erdoes, who decided to retain Epstein as a client after his Florida indictment, arrest, jail term and after multiple internal investigations of his large cash withdrawals from his JPMorgan Chase accounts.
Despite dozens of news articles about Epstein being indicted in Florida for soliciting sex with a minor in 2006; despite bestselling author, James Patterson's 2016 book, "Filthy Rich," covering Epstein's sexual assaults on young girls; notwithstanding Julie Brown's blockbuster series on Epstein's crimes against young women in the Miami Herald in 2018, which caused a viral media storm, Dimon's under-oath position in the deposition was this:
"I don't recall knowing anything about Jeffrey Epstein until the stories broke sometime in 2019. And I was surprised that I didn't even — had never even heard of the guy, pretty much, and how involved he was with so many people."
That testimony came despite Dimon stating during the deposition that he read the following newspapers: the New York Times, the Financial Times, the Washington Post, and the Wall Street Journal.
Another serious challenge to Dimon's efforts to distance himself from any knowledge of Epstein or involvement with him came toward the end of the deposition when well-known lawyer, David Boies, of law firm Boies, Schiller & Flexner LLP, introduced an email directly referring to an Epstein meeting with Dimon. (Boies is one of the lawyers representing the Jane Doe 1 victim of Epstein in her lawsuit against the bank.) The exchange went as follows:
Boies: "On February 26, 2010, Lesley Groff writes Mr. Epstein on the subject of, Jes [Staley] and Jamie. 'Shall I have Lynn prepare heavy snacks for your evening appointments with [redacted], Jes Staley and Jamie Dimon? Or is this to be a nice, sit-down dinner at 9 p.m.?' And Mr. Epstein replies, 'Snacks.' "
Dimon responds:
"I have never had an appointment with Jeff Epstein. I've never met Jeff Epstein. I never knew Jeff Epstein. I never went to Jeff Epstein's house. I never had a meal with Jeff Epstein. I have no idea what they're referring to here."
The overall thrust of the U.S. Virgin Islands case against the bank is presented in its second amended complaint as follows:
"…based on documents reviewed and interviews conducted by the Government, JP Morgan knowingly facilitated, sustained, and concealed the human trafficking network operated by Jeffrey Epstein from his home and base in the Virgin Islands, and financially benefitted from this participation, directly or indirectly, by failing to comply with federal banking regulations, [redacted]. JP Morgan facilitated and concealed wire and cash transactions that raised suspicion of—and were in fact part of—a criminal enterprise whose currency was the sexual servitude of dozens of women and girls in and beyond the Virgin Islands. Human trafficking was the principal business of the accounts Epstein maintained at JP Morgan.
"Upon information and belief, JP Morgan turned a blind eye to evidence of human trafficking over more than a decade because of Epstein's own financial footprint, and because of the deals and clients that Epstein brought and promised to bring to the bank. These decisions were advocated and approved at the senior levels of JP Morgan, including by the former chief executive of its asset management division and investment bank, whose inappropriate relationship with Epstein should have been evident to the bank."
The second amended complaint by the U.S. Virgin Islands also adds a Fifth Count, charging JPMorgan Chase with obstruction. It reads in part:
"By providing financing for Epstein's sex trafficking organization from at least 2000 through about August 2013, and concealing its actions thereafter, JP Morgan obstructed, interfered with, and prevented the federal government's enforcement of the TVPA [Trafficking Victims Protection Act] against Epstein. To the extent that the federal government was able to ultimately charge Epstein with TVPA violations, the filing of these charges was delayed by JP Morgan's actions. Because of that delay, women and girls in the Virgin Islands were coercively caused to engage in commercial sex acts."
The second amended complaint also incorporates information obtained from a deposition of Mary Erdoes, one of the highest female executives at JPMorgan Chase. Much of the new information is stunning in terms of just how much it alleges that the bank knew about Epstein's sex trafficking while it displayed a callous disregard for the underage girls being impacted by its failing to take action.  It reads in part:
Read More @ WallStOnParade.com