by Harvey Organ, Harvey Organ Blog: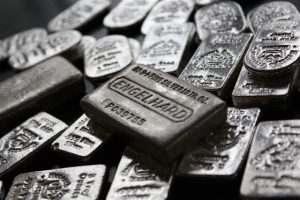 GOLD CLOSED DOWN $19.70 TO $1943.55//SILVER CLOSED DOWN $.32 TO $22.81//PLATINUM CLOSED UP $0.45 TO $1026.60//PALLADIUM WAS UP $14.45 TO $1420.95// GOOD COMMENTARY ON GOLD FROM JOHN RUBINO TODAY//BIG NEWS TODAY IS THE TOTAL COLLAPSE OF CHINA'S REAL ESTATE INDUSTRY//GERMANY HAS HAD ENOUGH WITH EU'S GREEN NEW DEAL: GREAT COMMENTARY ON THAT FROM MISH SHEDLOCK////COVID UPDATES//DR PAUL ALEXANDER//EWOL NEWS//SLAY NEWS//CANADA HAS A BIG PROBLEM WITH THEIR TRUCKING INDUSTRY//SAN FRANCISCO INFRASTRUCTURE DETERIORATING RAPIDLY/SEATTLE FOLKS AT AMAZON REBELLING THAT THEY MUST GO BACK TO WORK
TRUTH LIVES on at https://sgtreport.tv/
GOLD PRICE CLOSED: DOWN $19.70 TO $1943.55
SILVER PRICE CLOSED: DOWN $0.32   AT $22.81
Access prices: closes 4: 15 PM
Gold ACCESS CLOSE 1940.75
Silver ACCESS CLOSE: 22.73
xxxxxxxxxxxxxxxxxxxxxxxxxxxxxx
Bitcoin morning price:, $26,234  DOWN 5  Dollars
Bitcoin: afternoon price: $26,506  UP 267 dollars
Platinum price closing  $1025.95 DOWN $25.90
Palladium price;     $1406.50 DOWN $46.35
"Our system is so stinkin' corrupt that we owe Sodom and Gomorrah an apology." … Trader Dan Norcini in 2009
GO GATA!
END
Yesterday, we finished with option expiry for the comex and now we must endure some pain as we wait the conclusion of LBMA options expiry
May 31/2023.
Due to the huge rise in the dollar, we must look at gold and silver in currencies other than the dollar to understand where we are heading
I will now provide gold in Canadian dollars, British pounds and Euros/4: 15 PM ACCESS
CANADIAN GOLD: $2,644.00 DOWN 18.00 CDN dollars per oz (ALL TIME HIGH 2,775.35)
BRITISH GOLD: 1574.69 DOWN 9.61 pounds per oz//(ALL TIME HIGH//CLOSING///1630.29)
EURO GOLD: 1809.07 DOWN 13.02 euros per oz //(ALL TIME HIGH/CLOSING//1861.21)//
DONATE
Click here if you wish to send a donation. I sincerely appreciate it as this site takes a lot of preparation
EXCHANGE: COMEX
EXCHANGE: COMEX
CONTRACT: MAY 2023 COMEX 100 GOLD FUTURES
SETTLEMENT: 1,962.800000000 USD
INTENT DATE: 05/24/2023 DELIVERY DATE: 05/26/2023
FIRM ORG FIRM NAME ISSUED STOPPED
---
118 C MACQUARIE FUT 23
363 H WELLS FARGO SEC 54
435 H SCOTIA CAPITAL 6
624 H BOFA SECURITIES 1
657 C MORGAN STANLEY 23
661 C JP MORGAN 21
726 C CUNNINGHAM COM 2
732 C RBC CAP MARKETS 1
737 C ADVANTAGE 3
880 H CITIGROUP 43
905 C ADM 23
---
TOTAL: 100 100
MONTH TO DATE: 6,139
JPMorgan stopped 21/100 contracts
FOR MAY:
GOLD: NUMBER OF NOTICES FILED FOR MAY/2023. CONTRACT:  100 NOTICES FOR 10000 OZ  or  0.3110 TONNES
total notices so far: 6139 contracts for 613,900 oz (19.094 tonnes)
FOR  MAY:
SILVER NOTICES: 4 NOTICE(S) FILED FOR 20,000 OZ/
total number of notices filed so far this month :  2558 for 12,790,000 oz
XXXXXXXXXXXXXXXXXXXXXXXX
Click here if you wish to send a donation. I sincerely appreciate it as this site takes a lot of preparation
---
---
END
GLD
WITH GOLD UP DOWN $9.50..
INVESTORS SWITCHING TO SPROTT PHYSICAL  (PHYS) INSTEAD OF THE FRAUDULENT GLD//WOW!!
/NO CHANGES IN GOLD INVENTORY AT THE GLD:////
INVENTORY RESTS AT 941.29 TONNES
Silver//
WITH NO SILVER AROUND AND SILVER DOWN 35 CENTS AT THE SLV//
SMALL CHANGES IN SILVER INVENTORY AT THE SLV A DEPOSIT OF 276,000 OZ INTO THE SLV//: ; : INVESTORS ARE SWITCHING SLV TO SPROTT'S PSLV.
CLOSING INVENTORY: 471.606 MILLION OZ
Let us have a look at the data for today
SILVER//OUTLINE
SILVER COMEX OI FELL BY A TINY SIZED 82 CONTRACTS TO 135,658 AND CLOSER TO THE  RECORD HIGH OI OF 244,710, SET FEB 25/2020 AND THIS TINY SIZED GAIN IN COMEX OI WAS ACCOMPLISHED DESPITE OUR  $0.35 FALL  IN SILVER PRICING AT THE COMEX ON WEDNESDAY. TAS ISSUANCE WAS ANOTHER STRONG SIZED 719 CONTRACTS. THESE WILL BE USED FOR MANIPULATION NEXT MONTH.  CRAIG HEMKE HAS POINTED OUT THAT THE CROOKS USE THE MID MONTH FOR MANIPULATION AS THEY SELL THEIR BUY SIDE OF THE CALENDAR SPREAD FIRST AND THEN KEEP THE SELL SIDE TO LIQUIDATE AT A LATER DATE.  THUS WE HAVE TWO VEHICLES THE CROOKS USE FOR MANIPULATION AND BOTH ARE SPREADERS:  1) AT MONTH'S END/SPREADERS COMEX AND 2/ TAS SPREADERS, MID MONTH. TOTAL TAS ISSUED ON WEDNESDAY: A STRONG 719 CONTRACTS. DESPITE MANY COMPLAINTS THAT THE CROOKS HAVE VIOLATED POSITION LIMITS DUE TO THE FACT THAT THEY VALUE 0 TO A POSITION LIMIT IF A CALENDAR SPREAD OCCURS. IT NATURALLY FELL ON DEAF EARS WITH OUR REGULATORS (OCC) WHEN THEY RECEIVED THE COMPLAINT IN SIMILAR FASHION TO ALL OF THOSE DEMOCRATIC CRIMES COMMITTED WITH NO ATTENTION GIVEN BY ATTORNEY GENERALS.
WE HAVE THIS YEAR SET ANOTHER RECORD LOW AT 117,395 CONTRACTS ///MARCH 29.2023. OUR BANKERS WERE SUCCESSFUL IN KNOCKING THE PRICE OF SILVER DOWN (IT FELL BY $0.35). AND WERE  UNSUCCESSFUL IN KNOCKING SOME SPEC LONGS AS WE HAD A GOOD GAIN ON OUR TWO EXCHANGES OF  319 CONTRACTS   WE HAD 500 CRIMINAL NOTICES FILED IN THE CATEGORY OF  EXCHANGE FOR RISK TRANSFER FOR 2.5 MILLION OZ// (  THE TOTAL ISSUED IN THIS CATEGORY SO FAR THIS MONTH TOTAL 6.750 MILLION OZ.).  WE HAVE NOW RETURNED TO OUR USUAL AND CUSTOMARY SCENARIO: BANKERS SHORT AND SPECS LONG WITH MANIPULATION NOW MID MONTH AND BEYOND, DUE TO (TAS) MANIPULATION. WE WILL HAVE IN OUR FINAL WEEK IN THE DELIVERY CYCLE MORE MANIPULATION IN OUR PRECIOUS METALS  DUE TO COMEX SPREADERS LIQUIDATION ACCOMPANYING OPTIONS EXPIRY ON BOTH THE COMEX AND LONDON'S LBMA ALONG WITH AN ADDED FEATURE OF TAS LIQUIDATION.
WE  MUST HAVE HAD:
A SMALL  ISSUANCE OF EXCHANGE FOR PHYSICALS( 250 CONTRACTS) iiii) AN  INITIAL SILVER STANDING FOR COMEX SILVER MEASURING AT  13.105 MILLION OZ(FIRST DAY NOTICE) FOLLOWED BY TODAY'S E.F.P. JUMP TO LONDON  OF 5,000 OZ (E.F.P. JUMP LOWERS THE AMOUNT OF SILVER STANDING)+2.5 MILLION OZ EXCHANGE FOR RISK// TOTAL 6.75 MILLION OZ OF EXCHANGE FOR RISK FOR THE MONTH (RAISES THE AMOUNT OF SILVER STANDING):THUS TOTAL OF 20.245 MILLION OZ  OF SILVER  STANDING FOR DELIVERY  V)   SMALL SIZED COMEX OI LOSS/ SMALL SIZED EFP ISSUANCE/VI)  HUGE NUMBER OF SHORT T.A.S. CONTRACT INITIATION (719 CONTRACTS)//CONSIDERABLE T.A.S LIQUIDATION MANIPULATING THE PRICE SOUTHBOUND.
 I AM NOW RECORDING THE DIFFERENTIAL IN OI FROM PRELIMINARY TO FINAL  -removed  151 CONTRACTS
HISTORICAL ACCUMULATION OF EXCHANGE FOR PHYSICALS MAY. ACCUMULATION FOR EFP'S SILVER/JPMORGAN'S HOUSE OF BRIBES/STARTING FROM FIRST DAY/MONTH OF MAY:
TOTAL CONTRACTS for 19 days, total 11,775 contracts:   OR 58.875 MILLION OZ . (619 CONTRACTS PER DAY)
TOTAL EFP'S FOR THE MONTH SO FAR:  58.875 MILLION OZ
LAST 23 MONTHS TOTAL EFP CONTRACTS ISSUED  IN MILLIONS OF OZ:
MAY 137.83 MILLION
JUNE 149.91 MILLION OZ
JULY 129.445 MILLION OZ
AUGUST: MILLION OZ 140.120
SEPT. 28.230 MILLION OZ//
OCT:  94.595 MILLION OZ
NOV: 131.925 MILLION OZ
DEC: 100.615 MILLION OZ
YEAR 2022:
 JAN 2022-DEC 2022
JAN 2022//  90.460 MILLION OZ
FEB 2022:  72.39 MILLION OZ//
MARCH: 207.430  MILLION OZ//A NEW RECORD FOR EFP ISSUANCE
APRIL: 114.52 MILLION OZ FINAL//LOW ISSUANCE
MAY: 105.635 MILLION OZ//
JUNE: 94.470 MILLION OZ
JULY : 87.110 MILLION OZ
AUGUST: 65.025 MILLION OZ
SEPT. 74.025 MILLION OZ///FINAL
OCT.  29.017 MILLION OZ FINAL
NOV: 134.290 MILLION OZ//FINAL
DEC, 61.395 MILLION OZ FINAL
TOTALS YR 2022: 1135.767 MILLION OZ (1.1356 BILLION OZ)
JAN 2023///   53.070 MILLION OZ //FINAL
FEB: 2023:       100.105 MILLION OZ/FINAL//MUCH STRONGER ISSUANCE VS THE LATTER TWO MONTHS.
MARCH 2023:  112.58 MILLION OZ//FINAL//STRONG ISSUANCE
APRIL  118.035 MILLION OZ(SLIGHTLY GREATER THAN THAN LAST MONTH)
MAY 58.875 MILLION OZ/INITIAL (MUCH SMALLER THIS MONTH)  
RESULT: WE HAD A SMALL SIZED DECREASE IN COMEX OI SILVER COMEX CONTRACTS OF 82  CONTRACTS  WITH OUR FAIR SIZED  $0.35 LOSS IN SILVER PRICING AT THE COMEX//WEDNESDAY.,.  THE CME NOTIFIED US THAT WE HAD A SMALL  SIZED EFP ISSUANCE  CONTRACTS: 250  ISSUED FOR JULY AND 0 CONTRACTS ISSUED FOR ALL OTHER MONTHS) WHICH  EXITED OUT OF THE SILVER COMEX  TO LONDON  AS FORWARDS./ WE HAVE A GOOD INITIAL SILVER OZ STANDING FOR MAY OF  13.105 MILLION  OZ//FIRST DAY NOTICE FOLLOWED BY TODAY'S E.F.P. JUMP    OF 5,000 OZ (DECREASES THE AMOUNT OF SILVER STANDING) +//  + 2.5 MILLION NEW EXCHANGE FOR RISK  TODAY (INCREASES THE AMOUNT OF SILVER STANDING) //TOTAL EXCHANGE FOR RISK MONTH= 6.75 MILLION//NEW TOTALS 13.495 MILLION OZ + 6.75 MILLION = 20.245 MILLION OZ STANDING FOR MAY//  .. WE HAVE A SMALL SIZED GAIN OF 168 OI CONTRACTS ON THE TWO EXCHANGES. THE TOTAL OF TAS INITIATED CONTRACTS TODAY: A HUGE  719!!//CONSIDERABLE FRONT END OF THE TAS CONTRACTS WERE LIQUIDATED.
Read More @ HarveyOrganBlog.com