by Chris Menahan, Information Liberation: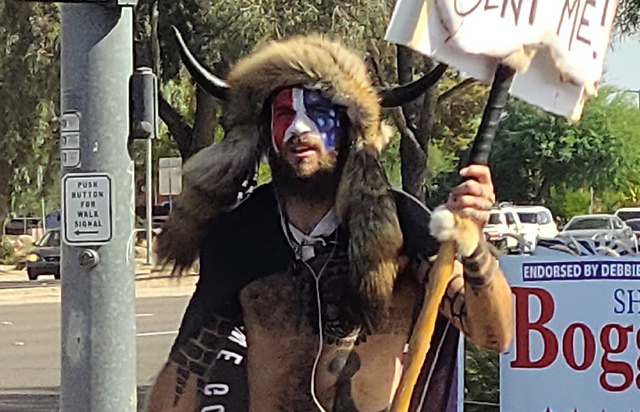 Q-Anon shaman Jacob Chansley was released from prison early to a halfway house this week, just three weeks after Tucker Carlson released new footage from J6 showing Chansley was escorted throughout the Capitol building by police.
From The Daily Mail, "QAnon Shaman Jacob Chansley is released 14 months early from prison after Jan. 6 footage showed him being 'ESCORTED' by cops inside the Capitol":
TRUTH LIVES on at https://sgtreport.tv/
The so-called 'QAnon Shaman' who pleaded guilty to storming the US Capitol on January 6 has been released from prison to a halfway house 14 months early, in an apparent reduction for good behavior.

Jacob Chansley, 35, pleaded guilty in September 2021 to civil disorder and violent entry to the Capitol, among other charges, and was later sentenced to 41 months in federal prison.

Earlier this week, Chansley was transferred from FCI Stafford federal prison in Arizona to community confinement in the Phoenix area, after serving just under 27 total months in prison, a Bureau of Prisons (BOP) spokesman confirmed in a statement to DailyMail.com on Thursday.

The spokesman declined to comment on the reason for the transfer, but pointed generally to federal laws that allow for good-conduct sentence reductions, as well as release to a halfway house for the final 12 months of a sentence.

Chansley's release comes weeks after his former attorney demanded he be freed in light of new video from the Capitol riot, but his move to the halfway house appears to be unconnected.

A former federal prosecutor unconnected with the case said it was doubtful public pressure played a role in Chansley's transfer, noting the move appears 'kind of routine' under BOP guidelines.

'For safety, and security reasons, we do not discuss the conditions of confinement for any inmate, including transfers or release plans, nor do we specify an individual's specific location while in community confinement,' the BOP spokesman said.
There's nothing "routine" about the vicious political persecution J6 protesters have faced at the hands of the DC regime and there's no reason to believe Chansley's release was not a result of the new footage being released showing not only that he was totally innocent but also that the DC regime actually conspired against him to hide footage that exonerated him.
Some J6 political prisoners have been detained for two years now without a trial.
When Attorney General Merrick Garland was confronted on Wednesday about J6 detainees having their rights violated he said he didn't "know anything" about their cases.
Read More @ InformationLiberation.com