by Michael Snyder, End Of The American Dream: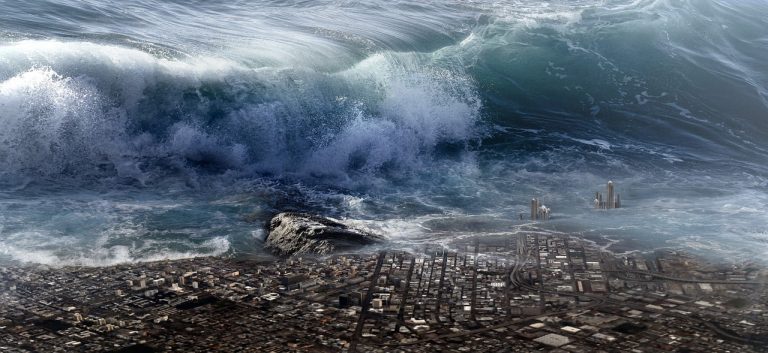 For a moment, I would like for you to imagine an unthinkable scenario.  Dozens of giant underwater drones armed with nuclear warheads that have been parked just off our coastlines detonate simultaneously, sending massive "radioactive tsunamis" pouring over our most important coastal cities.  New York, Washington, Boston, Miami, Los Angeles, San Francisco and Seattle are all wiped out in a matter of moments.  When the Russians began developing their Poseidon "doomsday weapon" a number of years ago, our leaders didn't take the threat very seriously.  But now the Russians are actually manufacturing Poseidons, and the North Koreans just tested their own version.
TRUTH LIVES on at https://sgtreport.tv/
Once someone decides to actually use such a weapon, our world will never be the same again.  Sadly, most Americans have absolutely no idea how vulnerable we are.  Most of us just continue to party like the good times will never end, but meanwhile our enemies are literally preparing to fight World War III.
I wish that I could get people to understand that millions of Americans could suddenly die on a single day if a cataclysmic war erupts.
Of course we have become well acquainted with tragedy in recent years.  On Friday, an absolutely enormous tornado touched down in Mississippi and stayed on the ground for at least 80 miles.  At this point, it is being reported that 23 people were killed…
Mississippi Emergency Management reports at least 23 people have died from Friday's tornado that ripped through the state.

MEMA reports dozens are injured and at least four are missing from the storm that left widespread devastation in the communities of Rolling Fork, Silver City and Amory.

"Unfortunately, these numbers are expected to change," MEMA said in a statement.
Words simply cannot convey the devastation that we just witnessed.  The tornado was more than a half-mile wide, and entire communities were completely wiped out.
MORNING LIGHT REVEALS A DEVASTATION IN #MISSISSIPPI 24+ have been killed by a long track #Tornado that was over a half-mile wide! Looking over these images it appears we have a high-end EF4 poss EF5 Tornado (last 5 to hit nearly 10 years ago) pic.twitter.com/lPWdwA7nfs

— Mike Masco (@MikeMasco) March 25, 2023
When one meteorologist realized what was happening, he literally started praying while he was on the air…
A meteorologist prayed live on air Friday as tornadoes ripped through Mississippi, leaving at least 23 dead.

"Dear Jesus, please help them," said WTVA chief meteorologist Matt Laubhan Friday night, as he warned residents of Amory, Mississippi to immediately take shelter.

"Oh, man," the Emmy winning weather professional said, briefly bowing his head as he offered the prayer.
This was definitely a great, great tragedy, but so far the death toll is fairly limited.
Now I want you to consider what our society will look like if a surprise attack kills millions of our citizens on a single day.
According to Popular Mechanics, the Poseidon "doomsday weapon" is 65 feet long and it has "nearly unlimited range"…
Poseidon is a large, nuclear-powered torpedo designed to attack enemy coastal targets from thousands of miles away. Poseidon is about 65 feet long and 6.5 feet wide, making it the largest torpedo ever deployed. It's so large that it's arguably an underwater drone. The use of nuclear power gives it nearly unlimited range. Theoretically, a weapon like Poseidon could be launched from a port or naval base, but deploying it on a submarine makes it more difficult to locate and destroy.
Have you seen photos of Hiroshima or Nagasaki after they were nuked in World War II?
Read More @ EndOfTheAmericanDream.com