by Pam Martens and Russ Martens, Wall St On Parade: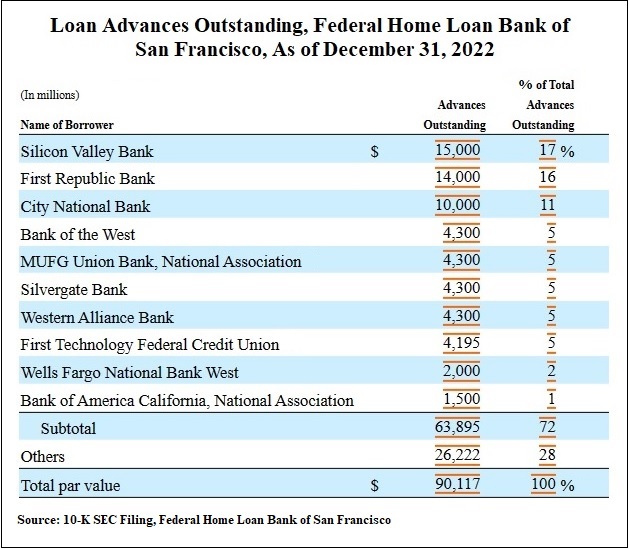 On March 13 we published the chart below, showing the ten financial institutions that had taken the largest loan advances from the Federal Home Loan Bank of San Francisco as of year-end 2022. It's a very ominous sign that the bank at the top of the list, Silicon Valley Bank, collapsed and is now under the control of the Federal Deposit Insurance Corporation (FDIC). Silicon Valley Bank had $212 billion in assets as of year-end 2022, making it the second largest bank failure in U.S. history. The largest failure was Washington Mutual in 2008, with approximately $300 billion in assets.
TRUTH LIVES on at https://sgtreport.tv/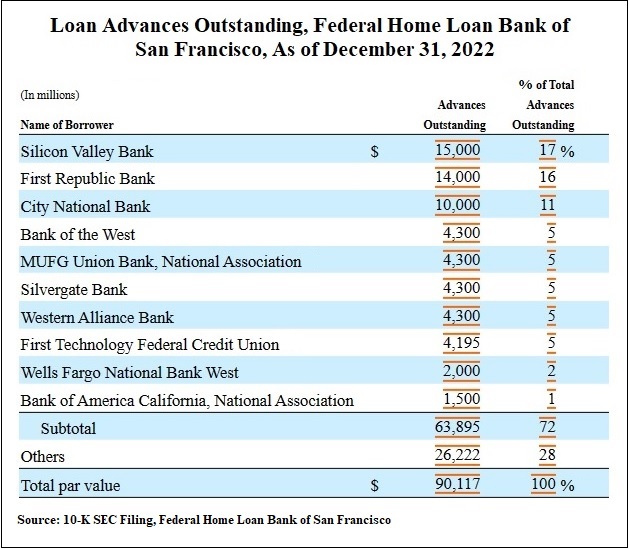 The second bank on the list, First Republic Bank (ticker FRC), has seen its share price collapse, had its debt downgraded deeper into junk by S&P Global on Sunday, and is experiencing an exit stampede by depositors.
The sixth bank on the list, Silvergate Bank, is in the midst of a voluntary liquidation after its hot money crypto depositors headed for the exits.
The seventh bank on the chart, Western Alliance Bank (ticker WAL), has also seen its share price collapse and was put on a negative credit watch by Moody's.
To put it another way, there seems to be a direct correlation between needing to take big loan advances from your regional federal home loan bank and being in deep distress. Federal Home Loan Banks were created by Congress to provide affordable mortgages to poor people. They weren't meant to bail out federally-insured banks that got in bed with crypto carnival barkers or to bail out a Wall Street IPO pipeline in drag as a federally-insured bank.
The FHLB regional banks are cooperatively owned by member financial institutions in their respective districts. There are 11 of these regional Federal Home Loan Banks around the country, in districts earmarked as Atlanta, Boston, Chicago, Cincinnati, Dallas, Des Moines, Indianapolis, New York, Pittsburgh, San Francisco and Topeka. Since New York is typically the deepest swamp of incompetently supervised banks (see here, here and here), we decided to take a look at the 2022 annual report for the Federal Home Loan Bank of New York.
According to that report, Citigroup's Citibank was the largest borrower from the FHLB of New York as of year-end 2022 with $19.25 billion in loans outstanding. That's a 267 percent increase from Citibank's $5.25 billion in loans outstanding with the FHLB of New York as of December 31, 2021. (See pages 172 and 173 of the FHLB of New York annual report at this link.)
Ominously, the now-collapsed and FDIC seized Signature Bank went from $2.64 billion in loans outstanding with FHLB of New York at the end of 2021 to $11.28 billion at the end of 2022 – an increase of 327 percent.
Citigroup's Citibank making an appearance on this chart is not a good omen given its history. Citigroup/Citibank were the largest borrowers from the Fed's emergency bailout programs during the financial crash of 2007 to 2010, secretly receiving over $2.5 trillion in cumulative loans according to a 2011 audit conducted by the Government Accountability Office on the Fed's emergency lending facilities. In addition, Citigroup/Citibank received the following in bailouts: $45 billion in capital injections from the U.S. Treasury; the Federal government guaranteed over $300 billion of Citigroup's dubious assets; the Federal Deposit Insurance Corporation (FDIC) guaranteed $5.75 billion of its senior unsecured debt and $26 billion of its commercial paper and interbank deposits.
By March 2009, Citigroup was a 99-cent stock. But for reasons that remain in dispute, the banking behemoth was not wound down. In Ron Suskind's book, Confidence Men, he says former Treasury Secretary Tim Geithner (who failed up to that post after a lot of crony lunches with Citigroup execs as President of the New York Fed) ignored a direct order from President Obama to wind down Citigroup. Geithner has disputed that in his own book, writing that the President "never told me to pursue that path." (For background on Geithner's jaded interactions with Citigroup, see: As Citigroup Spun Toward Insolvency in '07- '08, Its Regulator Was Dining and Schmoozing With Citi Execs.)
The Senate Banking Committee and the House Financial Services Committee have both announced hearings on the collapse and FDIC-takeover of Silicon Valley Bank and Signature Bank. The Senate Banking Committee's hearing will be held on March 28 at 10 a.m. Witnesses currently scheduled are: Martin Gruenberg, Chair of the FDIC; Michael Barr, Vice Chairman for Supervision at the Federal Reserve; and Nellie Liang, Undersecretary for Domestic Finance at the U.S. Treasury. The same witnesses will appear before the House Financial Services Committee on March 29 at 10:00 a.m.
Read More @ WallStOnParade.com