by Pam Martens and Russ Martens, Wall St On Parade: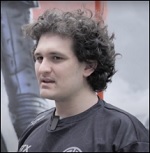 You can't make this stuff up. After promoting the false story that there were weapons of mass destruction in Iraq and pushing the U.S. into a deadly and costly war through its reporter, Judith Miller; and using its editorial board to shill for the repeal of the Glass-Steagall Act to advance the greedy Wall Street ambitions of Citigroup kingpin Sandy Weill, which ended up taking down the U.S. economy in 2008; the New York Times now appears determined to rehabilitate the reputation of the disgraced Sam Bankman-Fried, Co-Founder and recently ousted CEO of the bankrupt crypto exchange, FTX.  Bankman-Fried is being investigated on multiple continents, including North America, for stealing customer assets and looting his private investors. He has been compared, in headlines around the globe, to Bernie Madoff and his Ponzi scheme.
TRUTH LIVES on at https://sgtreport.tv/
Reuters reported that Bankman-Fried had moved as much as $10 billion of FTX customers' money to his hedge fund, Alameda Research, through a "backdoor" in its software. The Financial Times reported that FTX held just $900 million "in easily sellable assets" against $9 billion "of liabilities the day before it collapsed into bankruptcy."
Much of the FTX/Alameda money went into buying luxury properties in the Bahamas – to the tune of hundreds of millions of dollars – while hundreds of millions more went into obtaining celebrity endorsements; tv commercials and a super bowl ad;  padding the campaign coffers of politicians in Washington; and billions of dollars in loans to Sam Bankman-Fried and other top executives.
Against that backdrop, it is unfathomable that a large circulation, daily newspaper in America would lend its name to a conference featuring Sam Bankman-Fried as a speaker. But that is what is expected to unfold today, according to an email we received yesterday from a press contact at the New York Times, who wrote: "At this time, we expect Mr. Bankman-Fried will be participating in the DealBook Summit interview tomorrow from the Bahamas."
As of yesterday afternoon, Bankman-Fried was featured on the New York Times web site for this summit in the very top row of speakers listed. His photo appeared near that of Eric Adams, the crypto-loving Mayor of New York City. Another speaker at the same event is Janet Yellen, Secretary of the U.S. Department of the Treasury, who serves in the dual role of Chair of the Financial Stability Oversight Council – who might be expected to comment on how crypto is destabilizing and putting at risk the reputation of U.S. financial markets – while Bankman-Fried listens in from his $40 million penthouse condo in the Bahamas.
We are not the first to notice that the New York Times has soft-pedaled its coverage of Sam Bankman-Fried. On November 15, Gizmodo reporter Matt Novak wrote this:
"…the interview with SBF, as he's often called, is presented with such a gauzy lens that you have to start wondering what the hell is going on with crypto reporting at the Times.
"The new article in the New York Times by David Yaffe-Bellany lays out the facts in ways that are clearly beneficial to SBF's version of the story and leaves many of his highly questionable assertions without proper context or even the most minimal amount of pushback. The result isn't to illuminate the shadowy world of crypto. It reads like if the Times had conducted an interview with Bernie Madoff after his ponzi scheme collapsed and ultimately suggested he just made some bad investments."
The New York Times reporting on FTX and Sam Bankman-Fried has also attracted the attention of the eagle-eyed Robert Kuttner at American Prospect. Under the headline "The New York Times Is in the Tank for Crypto," Kuttner writes:
"A [New York Times] piece on the interconnections between Bankman-Fried's exchange (FTX) and the investment company he controlled (Alameda) soft-pedaled the outright illegality of his making trades with customer funds. To hear the Times tell it, 'Alameda's need for funds to run its trading business was a big reason Mr. Bankman-Fried created FTX in 2019. But the way the two entities were set up meant that trouble in one unit shook up the other as crypto prices began to drop in the spring.'
"But that's not what happened. When customers demanded their money, Fried didn't have it, because he had been using it and losing it, illegally, for his own trades.
"And this: 'Alameda's methods borrowed many aspects from traditional high finance. It was a quantitative trading firm, similar to Wall Street hedge funds that use mathematical models and data to inform decisions. It used 'leverage'—or borrowed money—to fuel its trades and make bigger returns.'
"Note the alibis, and the passive voice. The subhead tells the reader 'things got out of control,' as in Nixon's infamous 'mistakes were made.' The comparable Wall Street Journal piece ran rings around the Times version, explaining the interlocks and the sheer illegality."
Kuttner also singles out New York Times reporter David Yaffe-Bellany for the "worst Times pieces" on crypto and points to an article Yaffe-Bellany bylined in January of this year, titled: "The Rise of the Crypto Mayors." We took a very careful look at that article, which provided no pushback to misinformation embedded in quotes. For example, Yaffe-Bellany quotes Scott Conger, the Mayor of Jackson, Tennessee as follows: "Bitcoin is a great financial equalizer. It's a hedge against inflation. It can bridge that wealth gap."
In fact, Bitcoin and other major cryptocurrencies have collapsed in price this year simultaneously with inflation reaching 40-year highs. Crypto has been the opposite of a hedge against inflation. Why has that happened? Because as the Fed tightened interest rates to combat the rise in inflation, it made the highly-leveraged bets in crypto more expensive and margin loans harder to come by.
As for crypto "bridging the wealth gap," millions of retail customers around the world have been locked out of access to their crypto accounts this year, with every likelihood that they will see only pennies on the dollar – if anything – when the bankruptcy cases are settled.
The New York Times DealBook Summit, where Bankman-Fried is scheduled to appear today from the Bahamas, is the brainchild of Andrew Ross Sorkin, who wears a strange number of hats. His profile at CNBC reads as follows: "Andrew Ross Sorkin is co-anchor of 'Squawk Box,' CNBC's signature morning program. Sorkin is also a financial columnist for The New York Times and the editor-at-large of DealBook, a news site he founded that is published by The Times."
Read More @ WallStOnParade.com