by Pam Martens and Russ Martens, Wall St On Parade: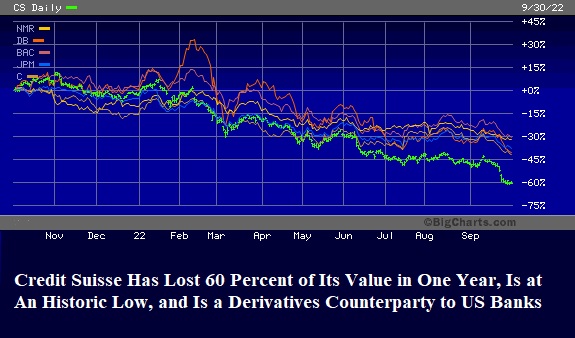 The Swiss global bank, Credit Suisse, which is a derivatives counterparty to major Wall Street banks and U.S. insurers, raised alarm bells in markets on Friday and is raising more anxiety this morning. Its 5-year credit default swap (CDS), a measurement of its risk of defaulting on its debt, jumped to 250 basis points on Friday and traded as high as 350 basis points in early morning trade today.
The big move in the CDS on Credit Suisse is further impacting the price of its common stock. The shares closed on Friday in New York at $3.92, just pennies away from its all-time low, then dropped another 11 percent in early morning trading in Europe today.
TRUTH LIVES on at https://sgtreport.tv/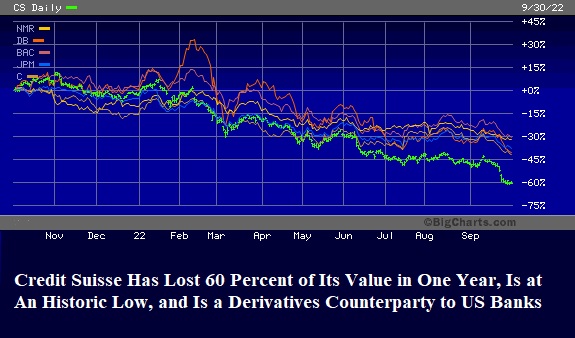 When a major derivatives counterparty begins to see a blowout in its credit default swaps, that impacts the stock prices of all major Wall Street banks with significant exposure to derivatives. It also raises the risk of systemic contagion — as occurred in the financial crisis of 2008 when Citigroup and Lehman Brothers were teetering and were major derivative counterparties. The chart above shows the dramatic declines in not just Credit Suisse over the past year but in Nomura (NMR), Deutsche Bank (DB), Bank of America (BAC), JPMorgan Chase (JPM), and Citigroup (C).
The reputation of Credit Suisse has taken major hits in the past few years. On March 26, 2021, the family office hedge fund, Archegos Capital Management, defaulted on margin calls to its prime brokers and went belly up, leaving major investment banks with more than $10 billion in losses. Credit Suisse took the lion's share of those losses, acknowledging a loss of more than $5 billion.
To understand the nature of the wildly risky structure of the derivatives that led to the blowup of Archegos, see our report: Archegos: Wall Street Was Effectively Giving 85 Percent Margin Loans on Concentrated Stock Positions – Thwarting the Fed's Reg T and Its Own Margin Rules.
Credit Suisse was also deeply enmeshed in the Greensill Capital scandal and has suffered serious reputational damage as a result.
Making stock investors equally nervous is the fact that Credit Suisse admitted in its 2021 Annual Report that some of its billions in derivatives are difficult to accurately price. It writes:
"In addition, the Group holds financial instruments for which no prices are available and for which have few or no observable inputs (level 3). For these instruments, the determination of fair value requires subjective assessment and judgment depending on liquidity, pricing assumptions, the current economic and competitive environment and the risks affecting the specific instrument. In such circumstances, valuation is determined based on management's own judgments about the assumptions that market participants would use in pricing the asset or liability (including assumptions about risk). These instruments include certain OTC derivatives, including interest rate, foreign exchange, equity and credit derivatives, certain corporate equity-linked securities, mortgage-related securities, private equity investments, certain loans and credit products, including leveraged finance, certain syndicated loans and certain high yield bonds."
Under "Major Risks," the 2021 Annual Report for Credit Suisse calls out the following risk for its Investment Bank:
"Loan underwriting and lending commitments to corporate clients, markets and trading activities including securities financing and derivatives products with global institutional clients, including banks, insurance companies, asset managers and hedge funds; through the use of derivatives clients may take positions that are exposed to movements in risk factors such as interest rates, credit spreads, foreign exchange rates or equity prices."
All eyes on Wall Street are going to be watching the price action of Credit Suisse and other major banks on Wall Street this week in an effort to discern which banks are most heavily exposed to Credit Suisse as a derivatives counterparty.
Read More @ WallStOnParade.com