by Terresa Monroe-Hamilton, Biz Pac Review: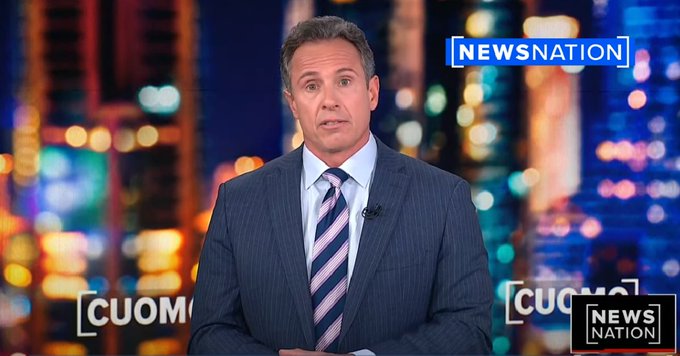 Chris Cuomo's debut on NewsNation Monday night flopped big time, drawing abhorrent ratings and taking a backseat to "Paw Patrol," "SpongeBob," and reruns of "Seinfeld" respectfully.
His media-hyped resurrection as a host on prime-time cable news only drew 147,000 total viewers, according to cable news ratings as reported by Mediaite.
TRUTH LIVES on at https://sgtreport.tv/
(Video Credit: NewsNation)
The former CNN host is reportedly making $1 million a year with NewsNation which is a massive demotion from the $6 million a year he was making with CNN. He was fired last year after attempting to help his disgraced brother, former New York Governor Andrew Cuomo, cover up sexual harassment allegations.
He is suing CNN for $125 million in unpaid wages and damage to his reputation as well.
In July, Chris Cuomo announced he would be joining NewsNation.
Chris Cuomo blasts 'manufactured division', resurrects career with groveling mea culpa: 'Here to expose the game' https://t.co/HfsOccIz8p pic.twitter.com/3iY5tn8nq4

— Conservative News (@BIZPACReview) October 4, 2022
"I want to build something special here," Cuomo said when he made the announcement, claiming he could return to what people see as the "big game" and asserted a need for "insurgent media."
With a tanked total viewership, Cuomo's new show did even worse with the key 25-54 demographic. He only had 8,000 viewers, trailing massively behind Fox News, CNN, MSNBC, and Newsmax.
The most embarrassing statistic showed that syndicated reruns, including "Paw Patrol," "SpongeBob," "Seinfeld," "Cocomelon," "The Office" and "Bobs Burgers," all drew a larger audience among the 25-54 demographic and among total viewers than Cuomo's show did, even though it touted big names like John Bolton, Dan Rather, and Bill Maher in the coveted 8 pm time slot.
Fox News's "Tucker Carlson Tonight" simply pulverized Cuomo in the ratings. His show led the prime-time spot's ratings with nearly 2.9 million total viewers. That's over 20 times the viewership of Cuomo's show. His old colleagues at CNN and MSNBC also left him in the dust with Anderson Cooper coming in second and MSNBC's "All In" hosted by Chris Hayes coming in third.