by Frances Martel, Breitbart: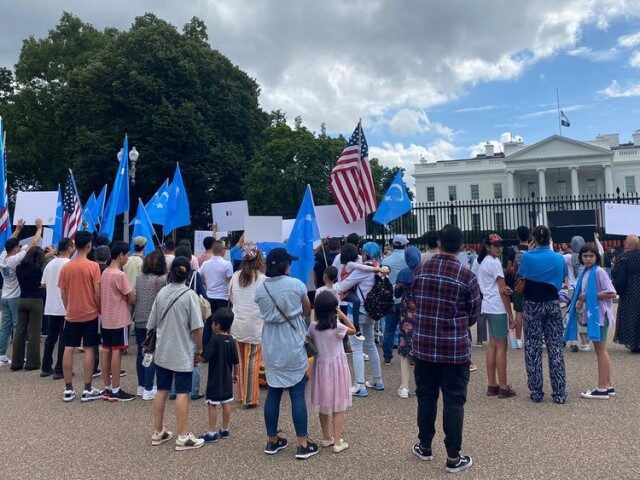 Uyghur community leaders organized a rally this weekend outside the White House demanding action in the face of growing reports of starvation in occupied East Turkistan, where the Chinese Communist Party has trapped residents in their homes since July in the name of preventing the spread of Chinese coronavirus .
China continues to impose "zero-covid" lockdowns on major cities – and in East Turkistan, entire regions – porportedly as a means of diminishing the spread of the disease. While similar house arrest measures were taken throughout the world in the early days of the ongoing pandemic, China remains the only major country to continue using lockdowns against the virus. Doing so has resulted in widespread global outrage and even condemnation from the World Health Organization (W.H.O.), which had previously praised China for its coronavirus response.
TRUTH LIVES on at https://sgtreport.tv/
Unlike the more recent lockdowns in major cities populated by ethnic Han majorities – like Beijing, Shanghai, and Shenzhen – the majority Uyghur, Kazakh, and Kyrgyz people of East Turkistan are reportedly facing mass starvation, as the Communist Party fails to provide food shipments to homes where authorities do not let people out. Videos began surfacing in the past week on heavily censored Chinese social media outlets of people in the region desperately calling for the government to provide food, saying that they and their children were starving with no end in sight and no response from authorities.
Prior to the lockdowns, China began a campaign of genocide in the region to exterminate its indigenous Turkic population through mass internment in concentration camps, killing prisoners for organ harvesting, and sterilizing entire villages, according to eyewitnesses and human rights investigators.
Protesters convening in front of the White House on Monday asked the administration of leftist President Joe Biden, Secretary of State Antony Blinken, the global media, and other actors to increase pressure on the Chinese Communist Party to stop what they referred to as a "starvation genocide." The rally was organized by the East Turkistan National Awakening Movement (ETNAM), which advocates for an East Turkistan independent of communist Chinese rule. China refers to East Turkistan using the Han name "Xinjiang."