from ZeroHedge: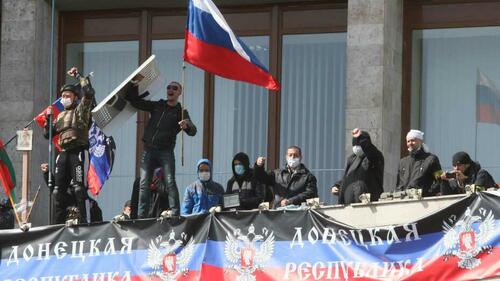 Update(1055ET): Russia's President Putin is set to give a major speech Tuesday evening (Moscow time) amid announcements by pro-Russian authorities in occupied regions of Ukraine that referendums to join the Russian Federation will be held in the coming days.
Russian media is reporting within the last hours (machine translation): "President Vladimir Putin may speak on Tuesday, September 20, regarding referendums in the territories of the LPR, DPR, Kherson and Zaporozhye regions. RBC was told about this by three sources close to the presidential administration. The speech is expected before the end of the day, what exactly the head of state will say is unknown to RBC's interlocutors."
TRUTH LIVES on at https://sgtreport.tv/
There are reports that Defense Minister Sergei Shoigu will also be by Putin's side, leading some pundits to speculate we are about to see a possible formal declaration of war and "national mobilization" of Russian society.
BREAKING: Putin may hold a speech today regarding the referendums in the territories of the LPR, DPR, Kherson and Zaporozhye, sources tell RBC

The speech is expected before the end of the day, what exactly he will say, is unknownhttps://t.co/sIsvS5ElrK

— Faytuks News Δ (@Faytuks) September 20, 2022
Putin is holding a meeting with leaders of the Russian Military Industrial Complex. There is heavy speculation that the current 200k force engaging Ukraine will be heavily increased and expanded. pic.twitter.com/8KoydcPkFE

— LogKa (@LogKa11) September 20, 2022
Multiple pro-Moscow officials in Ukraine on Tuesday announced their intent to stage referendums on joining Russia, including the head of the Donetsk People's Republic Denis Pushilin, as well as the Russia-installed official over the southern Kherson region, Vladimir Saldo. "I think that people have long been waiting for a referendum here and it will probably be a political move that will help ensure the safety of civilians," Pushillin said Tuesday.
The neighboring Luhansk People's Republic, where fierce battles took place ahead of and into the summer wherein Russia definitively gobbled up most territory, has also adopted a law on holding a vote, now announced for September 23-27.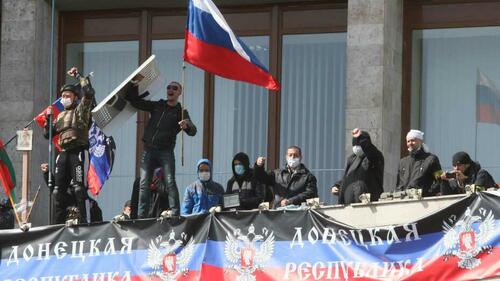 Bloomberg in reporting the announcement suggests that Ukraine's counteroffensive in the east may have actually hastened Moscow's timeline on annexation:
The Kremlin is moving hastily to stage sham votes on annexing the regions of Ukraine its forces still control, after Kyiv's military drove Russian troops from large areas of territory taken in their seven-month-old invasion. The so-called Luhansk People's Republic may hold its vote as soon as this weekend, Interfax quoted a senior legislator as saying Tuesday. 
Kherson region's Vladimir Saldo too said that "the leadership of the Kherson region administration decided to prepare and hold a referendum" after what he described as a public appeal, saying in a video message:
"We have set a course for reunification, a return to Russia. And we will not turn away from it."
As for the two self-proclaimed republics in the Donbas, this has long been seen as perhaps inevitable since the war began, but even partially Russian-controlled Zaporizhzhia region has seen pro-Russian officials already talking about a referendum, based on the "We are together with Russia" movement.