by Chris Menahan, Information Liberation: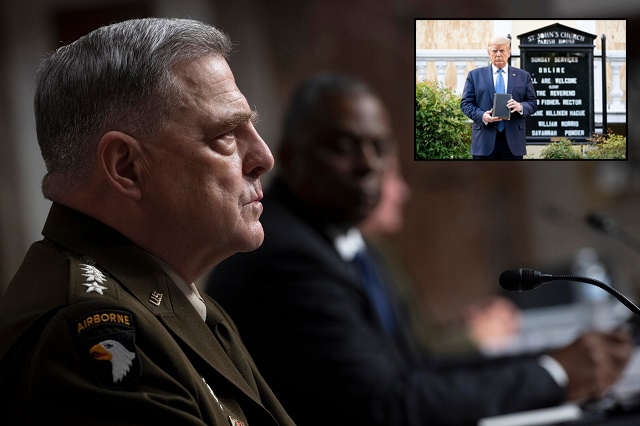 Woke General Mark Milley drafted a cringeworthy letter of resignation after President Donald Trump ordered Lafayette Square cleared of violent Black Lives Matter rioters in June 2020.
After BLM rioters set fire to the historic St John's Church across from the White House and started looting local shops and attacking people in the street, Trump reportedly asked Milley to "take personal charge" of putting the riots down.
TRUTH LIVES on at https://sgtreport.tv/
BREAKING: St. John's church in Lafayette Square is burning right now. Every single president since James Madison has sat in that church. It's a historic landmark and it's on fire.#Riot2020 #DCProtests #protests2020 pic.twitter.com/C7IDAruu1T

— Urban Conservative Politics (@UCPolitic) June 1, 2020
As a woke coward and BLM supporter focused solely on the evils of "white rage," Milley turned him down and instead scuttled himself off to his office in the Pentagon to write and rewrite a letter of resignation he never had the balls to actually present.
Here's how the New Yorker described it:
In the morning before the Lafayette Square photo op, Trump had clashed with Milley, Attorney General William Barr, and the Defense Secretary, Mark Esper, over his demands for a militarized show of force. "We look weak," Trump told them. The President wanted to invoke the Insurrection Act of 1807 and use active-duty military to quell the protests. He wanted ten thousand troops in the streets and the 82nd Airborne called up. He demanded that Milley take personal charge. When Milley and the others resisted and said that the National Guard would be sufficient, Trump shouted, "You are all losers! You are all fucking losers!" Turning to Milley, Trump said, "Can't you just shoot them? Just shoot them in the legs or something?"
The Capitol Police had no issue with shooting unarmed Air Force Veteran and Trump supporter Ashli Babbitt on Jan 6.
Eventually, Trump was persuaded not to send in the military against American citizens [sic]. Barr, as the civilian head of law enforcement, was given the lead role in the protest response, and the National Guard was deployed to assist police. Hours later, Milley, Esper, and other officials were abruptly summoned back to the White House and sent marching across Lafayette Square. As they walked, with the scent of tear gas still in the air, Milley realized that he should not be there and made his exit, quietly peeling off to his waiting black Chevy Suburban. But the damage was done. No one would care or even remember that he was not present when Trump held up a Bible in front of the damaged church; people had already seen him striding with the President on live television in his battle dress, an image that seemed to signal that the United States under Trump was, finally, a nation at war with itself. Milley knew this was a misjudgment that would haunt him forever, a "road-to-Damascus moment," as he would later put it. What would he do about it?

In the days after the Lafayette Square incident, Milley sat in his office at the Pentagon, writing and rewriting drafts of a letter of resignation. There were short versions of the letter; there were long versions. His preferred version was the one that read in its entirety:

I regret to inform you that I intend to resign as your Chairman of the Joint Chiefs of Staff. Thank you for the honor of appointing me as senior ranking officer. The events of the last couple weeks have caused me to do deep soul-searching, and I can no longer faithfully support and execute your orders as Chairman of the Joint Chiefs of Staff. It is my belief that you were doing great and irreparable harm to my country. I believe that you have made a concerted effort over time to politicize the United States military. I thought that I could change that. I've come to the realization that I cannot, and I need to step aside and let someone else try to do that.
Says the guy teaching anti-white critical race theory to our troops.
Second, you are using the military to create fear in the minds of the people—and we are trying to protect the American people. I cannot stand idly by and participate in that attack, verbally or otherwise, on the American people. The American people trust their military and they trust us to protect them against all enemies, foreign and domestic, and our military will do just that. We will not turn our back on the American people.
"The American people" here means the BLM rioters, not the BLM rioters' victims who were having their businesses burned down to the ground and getting attacked in the street.
Third, I swore an oath to the Constitution of the United States and embodied within that Constitution is the idea that says that all men and women are created equal. All men and women are created equal, no matter who you are, whether you are white or Black, Asian, Indian, no matter the color of your skin, no matter if you're gay, straight or something in between. It doesn't matter if you're Catholic, Protestant, Muslim, Jew, or choose not to believe. None of that matters. It doesn't matter what country you came from, what your last name is—what matters is we're Americans. We're all Americans. That under these colors of red, white, and blue—the colors that my parents fought for in World War II—means something around the world. It's obvious to me that you don't think of those colors the same way I do. It's obvious to me that you don't hold those values dear and the cause that I serve.
If Americans have no defining characteristics whatsoever, why does it matter that we're "Americans?"
Isn't that discriminatory and exclusionary against non-citizen foreigners? Americans are a nondescript people and have no defining characteristics but we're all united in our passports and the colors red, white and blue?
The BLM rioters were burning American flags!
And lastly it is my deeply held belief that you're ruining the international order, and causing significant damage to our country overseas, that was fought for so hard by the Greatest Generation that they instituted in 1945. Between 1914 and 1945, 150 million people were slaughtered in the conduct of war. They were slaughtered because of tyrannies and dictatorships. That generation, like every generation, has fought against that, has fought against fascism, has fought against Nazism, has fought against extremism. It's now obvious to me that you don't understand that world order. You don't understand what the war was all about. In fact, you subscribe to many of the principles that we fought against. And I cannot be a party to that. It is with deep regret that I hereby submit my letter of resignation.
I can't believe he would reveal any of this. Milley actually thinks this makes him look good!
The fact we have losers like this in charge is why the US has been losing every war we've gotten involved in for decades. They gave away our country and our birthright just so they could virtue-signal about how tolerant and liberal they are!
Read More @ InformationLiberation.com