by Katherine Hamilton, Breitbart: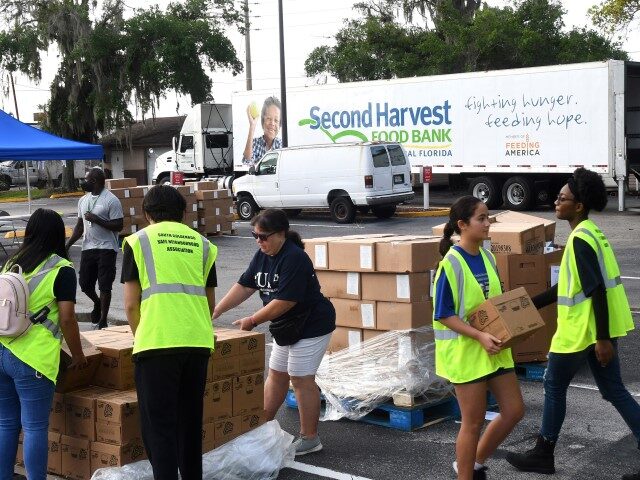 Nearly half of the food banks in the United States are experiencing an increased demand as Americans struggle under the crushing weight of 40-year-high inflation, DailyMail.com reported Monday.
Out of 200 food banks surveyed across the country in recent months, 45 percent said they have seen more people in need of services, according to Feeding America, which describes itself as a "nationwide hunger-relief charity."
TRUTH LIVES on at https://sgtreport.tv/
"With food costs rising at their fastest rate in decades, we're seeing many families that were already barely keeping their heads above water are now increasingly and more frequently relying on food pantries," CEO of the New York food bank City Harvest Jilly Stephens told DailyMail.com.
President of Utah Food Bank Ginette Bott told the outlet inflation is having the same negative effect as the coronavirus pandemic and has "stretched out clients' budgets even tighter." Bott added that higher gas prices have doubled her organization's fuel costs, "squeezing both sides of the emergency food assistance equation."
Pam, a Colorado food bank director, says they are seeing "significantly higher numbers" of families now than they did "all throughout COVID." pic.twitter.com/ZeAFM5W2TM

— RNC Research (@RNCResearch) August 2, 2022
Stories from local media affiliates have been popping up around the country of food banks struggling to meet the increased demand.
Workers at Volunteers of America's Everett food bank in Washington State said "they've never seen the shelves so empty," K5, an NBC affiliate reported this week. The organization, which provides food to 17 food banks across Snohomish County, contends the need is greater than during pandemic, exploding by 138 percent. In response, the organization is "being forced to ration food for the first time ever."