by Mac Slavo, SHTF Plan: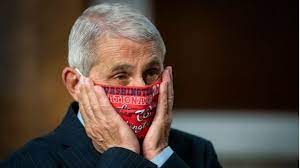 Dr. Anthony Fauci, the United States head medical tyrant said that those disobedient people who are not up to date on your COVID-19 "vaccines", are "going to get in trouble." Fauci demands you get all of your doses now or prepare for a harsh fall and winter.
Even though four shots couldn't help Fauci, he's insisting you believe that they work with exactly no evidence. In fact, there's more evidence that these injections are a part of the New World Order and Great Reset agenda than anything else.
TRUTH LIVES on at https://sgtreport.tv/
Double Vaccinated and Double Boosted Fauci Tests Positive For COVID-19
"If they don't get vaccinated or they don't get boosted, they're going to get into trouble," Fauci, President Biden's chief medical adviser, told Los Angeles radio station KNX News 97.1′s "KNX In Depth" on Tuesday. This applies to a lot of disobedient slaves in the United States.
According to the Kaiser Family Foundation, nearly 228 million, or roughly 70%, of Americans were unvaccinated, hadn't completed their primary vaccine series, or hadn't gotten their first booster dose as of July 21st, 2022. The uptake is particularly low for booster shots. All Americans age 5 and older are eligible for a booster five months after finishing their primary vaccine series, but only 48.4% of those eligible people have actually gotten boosted, according to Centers for Disease Control and Prevention data. Among adults 50 and over who are eligible for a second booster shot, only 30.9% have gotten it, the data said.
As the mainstream media and ruling class lament the low vaccination uptake, they are trying an old fear-based tactic to attempt to entice the public by being scared into getting their shots. According to one such fear-mongering report by CNBC, the U.S. could experience a major Covid surge with 100 million new infections and a wave of deaths in those upcoming months. Those projections were courtesy of the ruling class's White House Covid response coordinator, Dr. Ashish Jha in May.
And of course, the fear-mongering didn't stop there:
Fauci called the country's vaccine and booster rates "quite discouraging" and pointed to one potential reason why people aren't up-to-date: They simply think they don't need the additional doses because they fall outside of high-risk populations for Covid. Those populations include the elderly, those with underlying or immunocompromising conditions, and fully unvaccinated people.

Fauci said booster shots targeting Covid variants like BA.5, which will enhance immunity against those particular strains, will likely be available next month. Get one when you're eligible, Fauci said — and in the meantime, don't wait to catch up on the doses you're currently missing.-CNBC
These shots are a necessary part of the overall control system and are needed for the total control of humanity. There has never been a push like this for any other shot or injection in human history. Fauci made that abundantly clear, saying: "If you want to get your arms around … the outbreak, you want to get as many people in our community — and by community, I mean our nation and the world — vaccinated and boosted, so you don't give this virus such ample opportunity to really circulate."