by Pam Martens and Russ Martens, Wall St On Parade: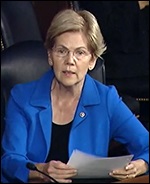 Last Thursday, during a Senate Banking Committee hearing, Senator Elizabeth Warren apparently grabbed the attention of federal regulators when she stated that Voyager, the crypto platform that filed for bankruptcy protection in early July, was promoting itself as being FDIC-insured. FDIC stands for Federal Deposit Insurance Corporation and is the federal agency that oversees federal deposit insurance for the nation's regulated banks and savings associations.
TRUTH LIVES on at https://sgtreport.tv/
Crypto trading platforms and their lending operations are not federally regulated; they are frequently tied to criminal activity; they are increasingly going bust and/or filing for bankruptcy protection and locking customers out of making withdrawals of their liquid funds and/or their crypto. Letting crypto get anywhere near a federally-insured bank would undermine public confidence in FDIC-insurance and undermine public confidence in the safety and soundness of all federally-insured banks in the U.S. And yet, federal bank regulators have been completely aware for years now that federally-insured banks were becoming intertwined with crypto companies and have chosen to look the other way.
Within hours of Senator Warren's statement at the Senate Banking hearing last Thursday, the FDIC and the Fed released a joint letter it had sent to Voyager Digital that same day. The letter advised as follows:
"Voyager has made various representations online, including its website, mobile app, and social media accounts, stating or suggesting that: (1) Voyager itself is FDIC-insured; (2) customers who invested with the Voyager cryptocurrency platform would receive FDIC insurance coverage for all funds provided to, held by, on, or with Voyager; and (3) the FDIC would insure customers against the failure of Voyager itself. These representations are false and misleading and, based on the information we have to date, it appears that the representations likely misled and were relied upon by customers who placed their funds with Voyager and do not have immediate access to their funds."
What Voyager had actually done was to open an "omnibus" account at the FDIC-insured Metropolitan Commercial Bank, which has apparently decided to roll the dice and accept deposits from multiple crypto firms. As of March 31, Metropolitan held over $1.1 billion in crypto-related deposits. The bank is part of the publicly traded Metropolitan Bank Holding Corp (ticker MCB), whose share price has lost 35 percent year-to-date (through last Friday's close).
Because Metropolitan had given Voyager this "omnibus" FDIC-insured account, Voyager used the imprimatur of the FDIC to promote itself as a safe platform. (See Tweet below.)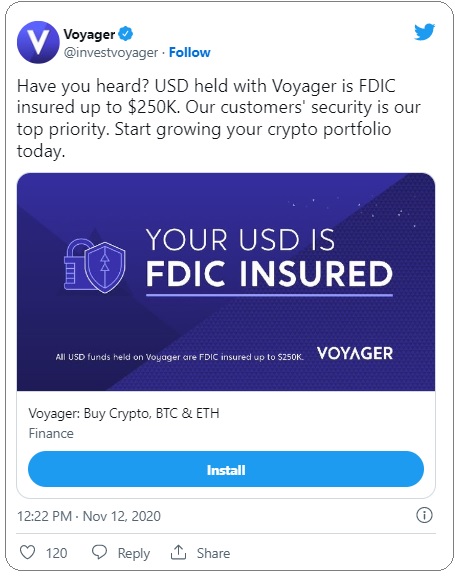 Unfortunately for the stability of the U.S. financial system, Metropolitan Commercial Bank is not the only FDIC-insured bank that has decided to allow the lawless world of crypto to infect its banking operations.
FDIC-insured Silvergate Bank is part of the publicly-traded Silvergate Capital Corp., (ticker SI). Silvergate's website says this about its hot pursuit of crypto: "We began pursuing digital currency customers in 2013 and have been deliberate in our approach to serving this community since then. Today, we have 1,300+ digital currency and fintech customers that are using our platform daily to grow and scale their businesses."
Read More @ WallStOnParade.com