by Matt Agorist, The Free Thought Project:
A number of documents described as "the tip of the iceberg" have been made public, revealing communications between private tech giants and the US administration bodies, aimed at closely coordinating censorship of Covid topics on social media.
This was announced on Wednesday by America First Legal (AFL) nonprofit, which obtained the documents thanks to a lawsuit filed against the Centers for Disease Control and Prevention (CDC). The legal action came after a failed attempt to, through Freedom of Information Act (FOIA) requests, learn about the level of the involvement of the White House in this type of censorship.
TRUTH LIVES on at https://sgtreport.tv/
The communications are interpreted as providing yet another piece of evidence of coordination, or even collusion, between US authorities and Google, Twitter, and Facebook.
AFL was spurred to action after Jen Psaki, at the time White House press secretary, last July declared that the administration was "regularly making sure" to inform social networks about what it identifies as narrative dangerous to public health. "And we work to engage with them to better understand the enforcement of social media platform policies," Psaki said.
The emails that have now finally been released show that CDC maintained regular communication with the three biggest social platforms starting in December 2020 and for at least another six months. These exchanges reveal what "working" with Google and others looked like: it went as far as flagging posts by social sites' users as "examples" of what needs to be censored.
Ad money was also a building block in this unusual and secretive form of close cooperation that could eventually bring into question the status of Big Tech corporations as private entities not bound by the First Amendment. In April of last year, Facebook gave CDC $15 million-worth of ad credits as a "gift" to be used to spread the agency's messages on vaccines, social distancing, travel and other Covid restrictions.
In other emails, Twitter employees are arranging regular chats with CDC, while the agency at one point in the spring of last year warned Facebook that its algorithms are not doing a good job – because along with vaccine "misinformation" they also were also getting rid of some posts by public health institutions.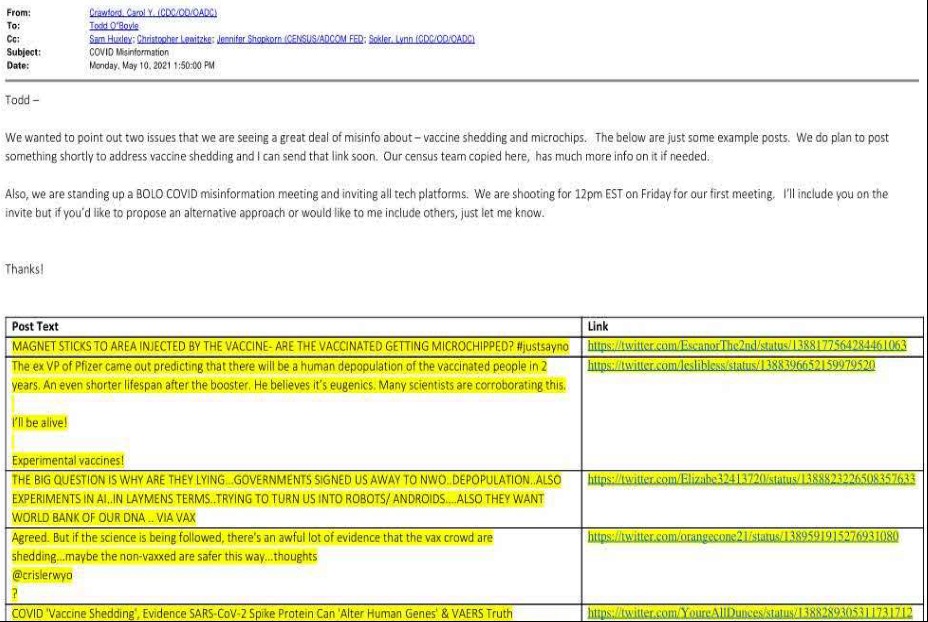 An interesting detail concerns a high-ranking CDC official appearing at Google's Trusted Media Summit in 2020, but not allowing organizers to post their address on YouTube – because they were not authorized to speak publicly.
Read More @ TheFreeThoughtProject.com