by Brandon Smith, Alt Market: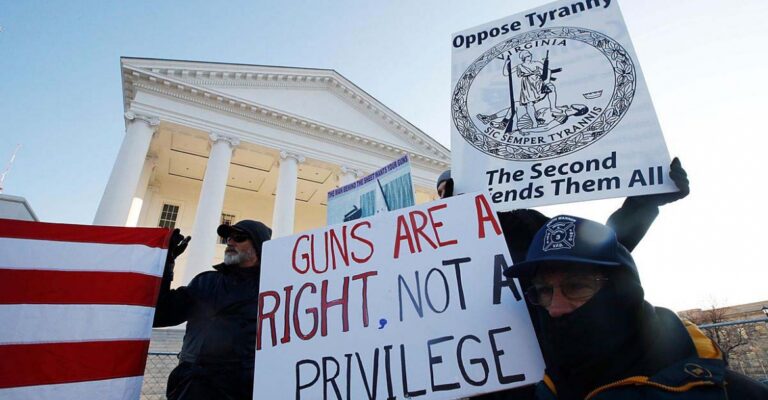 If there is one Holy Grail target that the political left obsesses over more that anything else, it is getting their hands on the 2nd Amendment and molding it to their will or erasing it forever. The pursuit of American gun rights is paramount to them, beyond critical race theory, beyond gender politics, even beyond the abortion debate. The problem for them is that ever since the Obama era they have consistently hit a brick wall in terms of convincing the general public to give another inch of ground when it comes to gun control.
TRUTH LIVES on at https://sgtreport.tv/
To be sure, there are many reasons for this that coincide. First, the credit crash of 2008 opened many people's eyes to the possibility that the economic systems we take for granted today could disappear tomorrow. Gun rights were no longer a matter of "tradition," but a matter of necessity. If the system breaks down and emergency services are overwhelmed or disappear then the only person you can rely on to protect your family is you. Mortal realities always win over emotional and reactionary demands. In other words, the benefits of individual self protection greatly outweigh any potential risks of criminality or abuse.
Second, the advent of the covid mandates, lockdowns and the blatant attempts to implement vaccine passport tyranny upon half the population of this country yet again reinforced the idea that gun rights are more important than ever. Without the unified refusal to comply by conservatives and some moderate Americans, it is highly likely that our nation would be in the same situation as China is right now – A pointless cycle of lockdowns, authoritarian denial of basic services for people that refuse to submit to a highly experimental mRNA vaccine, and even worse supply chain disruptions and financial instability than we already have.
Make no mistake, the reason the US is mostly free from these draconian conditions today is because of the continued existence of the 2nd Amendment and an armed citizenry. Without these things, there is no longer any obstacle to enforcing whatever unconstitutional provisions the establishment wants.
Third, with the advent of the BLM riots, inflationary pressures and rising crime rates, there has been a renewed interest in gun ownership in the US among normies. It's not just a conservative trend, many democrats have suddenly taken an interest also. There is very little chance that increased gun restrictions are going to happen with the approval of the public. The only way it could even be attempted is through executive order, and many millions of Americans will simply say 'no', just as they did with the vaccine passports.
And, let's be clear about what is really going on: The intention of political elites and the left is not "reasonable gun control." Their purpose is indeed confiscation.
Incrementalism is the name of the game. Lets not forget what we saw with the covid passports – At first they claimed that there were no plans to institute anything like a vaccine passport system. They said this was "conspiracy theory." Then, not more than a year later Biden tried to enforce proof of vaccination through executive order. Suddenly, it wasn't conspiracy theory anymore.
The same strategy has been attempted with gun rights in the past, and they will try to do it again. As with every other Western nation that has restricted gun ownership down to almost nothing, they start with the "scary" semi-auto weapons and work their way down until you have nothing left. Or, until only people with considerable money have the ability to purchase a firearm (which is the case through most of Europe).
I suspect that leftists are not fully opposed to the idea of gun ownership as they often pretend to be. I think they would actually like to retain their own guns if possible, they just don't want people like you and I to have them. Selective gun confiscation would be their ideal, which is the same exact strategy used by the Nazis, who selectively outlawed gun ownership for Jewish citizens and anyone politically opposed to the Third Reich but let all other Germans keep their weapons.
I would note that whenever gun crimes and mass murders are committed by people that are ideologically opposed to conservatives, the media and leftists often conveniently stop caring about taking action. They only seem to care when the crime can be associated with their political enemies.
We all know that leftists constantly argue that conservatives are inherently dangerous. It only takes one more step for them to claim that conservative thought is in itself a "mental illness" and that our guns should be taken by default. But let's talk about REAL mental illness for a moment, shall we?
Let's talk about recent active shooters like Payton Gendron with bizarre political and ideological beliefs that have nothing to do with conservative principles. Democrats like AOC and Chuck Schumer immediately tried to link Gendron, the Buffalo grocery store shooter, to conservatives and the Republican party. Yet, in only a few days time they were suddenly silent about the whole event and the media was oddly quiet. But why?
As it turns out, Gendron's philosophies were entirely socialist, with tinges of fascism and communism within the same framework. In fact, Gendron stated on multiple occasions that he hated conservatives and identified himself as an "eco-fascist." He also had a history of reports concerning his mental health and safety. The media's focus on "replacement theory" was a clear distraction from the real issue at hand. Their assertion was that if you are critical of illegal immigration, then you are automatically a racist and share an ideological boat with people like Payton Gendron. But then, their narrative fell apart when it became obvious that Gendron was actually anti-conservative.
In the case of Salvador Ramos, details are still emerging about the Texas school shooter and his affiliations, but some information has been leaked despite the media's quick move to control the narrative. For example, Ramos is not the white conservative monster the leftists need to fulfill their narrative requirements. Photos are also in circulation allegedly taken from his social media accounts which suggest he was transgendered and identified as "they/them." I'll stress here though that his social media accounts have been completely scrubbed and right now there is no way to confirm that this claim is true. Why his accounts were removed so quickly is not clear, but surely we will know more in the next couple of days.
Leftists are swiftly moving to refute any possibility that Ramos was transgendered; maybe they are right, maybe not. They were also very quick to deny that Darrell Brooks Jr., the mass killer that ran down a parade of people with his car in Waukesha, WI, was a supporter of BLM. But, as it turned out initial reports by internet sleuths were correct. Suddenly, leftists were fielding arguments that he was "pushed" to commit the crime by "institutional racism."
If it turns out that Ramos did in fact identify as trans, then the media message will surely change once again. I have no doubt there will be a move to defend Ramos as a tragic figure, rather than a monster, and the blame will be placed on the state of Texas and their legislative actions to stop transgender policies from invading their public school system.
The point is, there is no connection between gun rights supporters or conservatives and gun crime as leftists often claim. I can find just as many if not more incidences of mass murder perpetrated by leftists.