from ZeroHedge: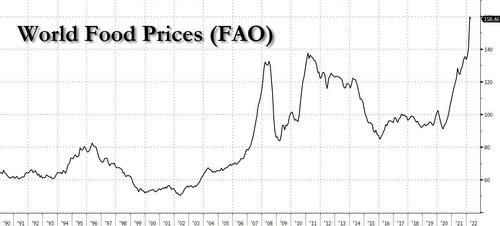 Two months ago, we noted the first Arab Spring 2.0 incident when, as a result of soaring food, energy (and everything else) prices, thousands of angry Iraqis took to the street to protest. Needless to say, their complaints did not get much traction, and in the meantime food prices have only exploded to fresh record highs, far surpassing the levels hit in 2011 when riots against, you guessed it, food prices toppled most MENA political regimes (not without some CIA backing).
TRUTH LIVES on at https://sgtreport.tv/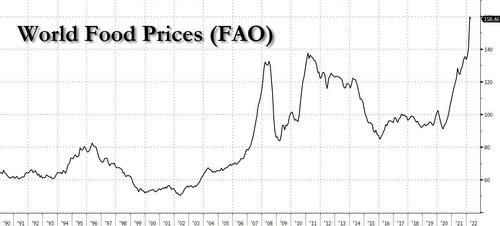 And as food prices keep rising, the protests across poor nations keep escalating, and on Thursday protests broke out in Iran leading to at least 22 arrests, after the government cut subsidies for food, sending prices through the roof as authorities braced for more unrest in the following weeks, Fox News reports.
In videos shared on social media, protesters can be seen marching through Dezful and Mahshahr in the southwestern province of Khezestan, chanting "Death to Khamenei! Death to Raisi!" referring to Iranian President Ebrahim Raisi has promised to create jobs, lift sanctions, and rescue the economy.
Iranian state media has not publicly addressed the protests, but they have been covered by the National Council of Resistance of Iran, an opposition group. Footage shared by the NCRI shows protesters setting fire to a Basij military base in Jooneghan, a city in the Central District of Jooneghan county.
"Every so often we see these types of protests in Iran. Each time it is under a different premise – the price of eggs, the price of gas, the price of bread, but the underlining message which is supported by the slogans heard throughout the demonstrations is the same; they are protesting the entirety of a brutal regime," Lisa Daftari, Iran expert and editor-in-chief of the Foreign Desk, said in a statement.
"It is also evident in the fact that these protests are no longer just contained to Tehran, the capital city, and other urban areas. We are seeing protests throughout the country in urban and rural areas and throughout the very vast and diverse Iranian population."
Daftari is right, and not just about Iran (and Iraq), but also Sri Lanka, where protesters angry at the soaring prices of everyday commodities including food, have burned down homes belonging to 38 politicians as the crisis-hit country plunged further into chaos, with the government ordering troops to "shoot on sight."
Police in the island nation said Tuesday that in addition to the destroyed homes, 75 others have been damaged as angry Sri Lankans continue to defy a nationwide curfew to protest against what they say is the government's mishandling of the country's worst economic crisis since 1948.