by Frances Martel, Breitbart: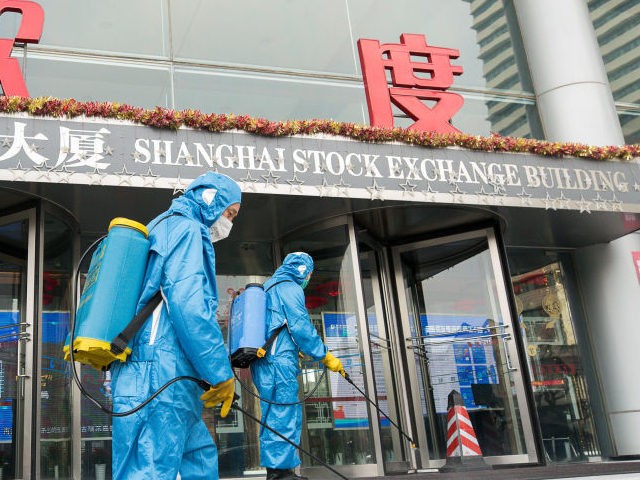 Videos surfacing on social media in the past week from Shanghai – and rapidly deleted on government-controlled sites like Weibo – show mounting desperation as a poorly planned coronavirus lockdown leaves the heart of China's economy with rotting food and a lack of basic necessities.
Many of the videos surfacing on Weibo, China's most popular micro-blogging platform, cannot be independently verified and disappear shortly after they appear, but translators outside of the country have saved and circulated them, painting a picture of a growing catastrophe alongside anonymous warnings from farms and food distributors that their supplies are rotting while people fear starvation because the Communist Party will not allow enough people to work to distribute the food.
TRUTH LIVES on at https://sgtreport.tv/
The videos follow reports that Beijing deployed the People's Liberation Army (PLA) to patrol the city and keep people locked in their homes at gunpoint.
The Chinese Communist Party announced it would impose its "most stringent antivirus measures ever" on its largest city in late March, allegedly necessary to contain the highly infectious omicron variant of Chinese coronavirus.
The announcement followed hints in state media outlets that Beijing would not continue to impose its radical, mass house arrest policy in Shanghai due to the economic significance of the city, followed by condemnation of local officials for not acting to lock down the city sooner – an indication of discord between dictator Xi Jinping and his top officials in Shanghai.
"Ever since epidemic prevention and control became the norm, General Secretary Xi Jinping has personally directed the deployment of epidemic prevention and control work," the state-run Xinhua news agency claimed in late March, "and established the general strategy to prevent imported cases and internal rebounds and the general policy of dynamic zero-Covid."
The Chinese coronavirus first began infecting people in Wuhan, China, in late 2019, prompting a similarly brutal government lockdown in that city, but only after the mayor had allowed 5 million people to leave and spread the disease around the world, causing the currently ongoing pandemic.
In addition to the harrowing scenes that appear to show foot riots and trapped residents screaming out their windows in Shanghai, videos and testimony emerged last week that China is hauling untold numbers of Shanghai residents to poorly managed quarantine camps, separating parents from young children who test positive. Videos allegedly from the facilities also surfacing on Chinese social media showed multiple infants tossed into small cribs and alongside toddlers, all with very minimal supervision.
Australia's ABC reproduced several videos from Shanghai social media on Monday appearing to show screaming from high-rise apartment buildings. One video, which Breitbart News could not independently verify, appeared to show a mob of people shouting "hand out the supplies!" referring to food, and attacking police in front of an apartment complex in the Jiuting area of Shanghai.
上海九亭小区居民没吃的,起事了,跟赶来镇压的警察打了起来。饿坏的上海人民也是敢打警察的。 pic.twitter.com/zk6msLHqgf

— 方舟子 (@fangshimin) April 8, 2022
Australia's News.com.au similarly compiled several videos from Chinese social media. One appears to show a desperate crowd fighting over boxes of basic supplies; another shows a large crowd confronting Communist Party officers in blue hazmat suits, apparently trying to break through a cordon seeking food and supplies.