by Harvey Organ, Harvey Organ Blog: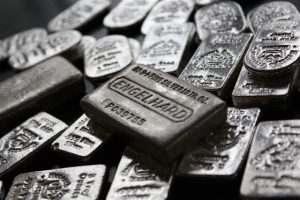 GOLD DOWN $3.05 TO $1953.20//SILVER DOWN 15 CENTS TO $25.14//GOLD STANDING AT THE COMEX FOR APRIL RISES BY ANOTHER QUEUE JUMP OF 1400OZ: NEW STANDING 82.009 TONNES//SILVER ALSO HAS A QUEUE JUMP OF 110,000 OZ NEW STANDING 6.410 MILLION OZ/COVID UPDATES//RUSSIA VS UKRAINE VS WEST UPDATES//GERMANS FEAR MOST A TOTAL BAN ON NATURAL GAS FROM RUSSIA//UKRAINE RECEIVES FIGHTER JETS FROM UNKNOWN SOURCES//SWAMP STORIES FOR YOU TONIGHT
TRUTH LIVES on at https://sgtreport.tv/
GOLD;  $1953.20 DOWN 3.05
SILVER: $25.14 DOWN $0.15
ACCESS MARKET: GOLD $1957.65
SILVER: $25.19
Bitcoin morning price:  $42,127 UP 645
Bitcoin: afternoon price: $41,053 DOWN 429
Platinum price: closing DOWN $28.10 to $989.65
Palladium price; closing UP 35.70  at $269.85
END
DONATE
Click here if you wish to send a donation. I sincerely appreciate it as this site takes a lot of preparation
comex notices/
: JPMorgan stopped/total issued  46/135
---
---
NUMBER OF NOTICES FILED TODAY FOR  APRIL. CONTRACT 135  NOTICE(S) FOR 13,500 OZ  (0.4199  TONNES)
total notices so far:  25,345 contracts for 2,534,500 oz (78.833 tonnes)
SILVER NOTICES:
80 NOTICE(S) FILED 400,000   OZ/
total number of notices filed so far this month  1279  :  for 6,395,000  oz
END
Russia is a major supplier of silver to London while Mexico supplies the COMEX
With the sanctions, London has no way to obtain silver other than compete with NY.
END
GLD
WITH GOLD DOWN $3.05
WITH RESPECT TO GLD WITHDRAWALS:  (OVER THE PAST FEW MONTHS):
GOLD IS "RETURNED" TO THE BANK OF ENGLAND WHEN CALLING IN THEIR LEASES: THE GOLD NEVER LEAVES THE BANK OF ENGLAND IN THE FIRST PLACE. THE BANK IS PROTECTING ITSELF IN CASE OF COMMERCIAL FAILURE
ALSO INVESTORS SWITCHING TO SPROTT PHYSICAL  (phys) INSTEAD OF THE FRAUDULENT GLD//
A HUGE CHANGE IN GOLD INVENTORY AT THE GLD A HUGE DEPOSIT OF 6.36 TONNES INTO THE GLD//
INVENTORY RESTS AT 1106.74 TONNES
Silver//SLV
WITH NO SILVER AROUND AND SILVER DOWN 15 CENTS
AT THE SLV// A HUGE CHANGES IN SILVER INVENTORY AT THE SLV: A WHOPPING DEPOSIT OF 2.955 MILLION OF INTO THE SLV//
INVESTORS ARE SWITCHING SLV TO SPROTT'S PSLV
CLOSING INVENTORY: 577.941 MILLION OZ
Let us have a look at the data for today
SILVER//OUTLINE
SILVER COMEX OI ROSE BY A STRONG SIZED  828 CONTRACTS TO 170,577   AND CLOSER TO THE NEW RECORD OF 244,710, SET FEB 25/2020 AND THE STRONG GAIN IN OI WAS ACCOMPLISHED DESPITE OUR HUGE  $0.62 LOSS  IN SILVER PRICING AT THE COMEX ON TUESDAY.  OUR BANKERS WERE  SUCCESSFUL IN KNOCKING THE PRICE OF SILVER DOWN (IT FELL BY $0.62) BUT WERE  UNSUCCESSFUL IN KNOCKING OUT ANY SILVER LONGS  AS WE HAD A STRONG GAIN OF 1678 CONTRACTS ON OUR TWO EXCHANGES
WE  MUST HAVE HAD:
I) HUGE BANKER SHORT COVERING AS THEY ARE VERY ANXIOUS TO GET OUT OF DODGE!!/. II)WE ALSO HAD  SOME  REDDIT RAPTOR BUYING//.   iii)  A STRONG ISSUANCE OF EXCHANGE FOR PHYSICALS iiii) A STRONG INITIAL SILVER STANDING FOR COMEX SILVER MEASURING AT 4.305 MILLION OZ FOLLOWED BY TODAY'S QUEUE. JUMP  OF 110,000  OZ//NEW STANDING: 6.410 MILLION OZ//  V)    HUGE SIZED COMEX OI GAIN/
 I AM NOW RECORDING THE DIFFERENTIAL IN OI FROM PRELIMINARY TO FINAL:
THE DIFFERENTIAL FROM PRELIMINARY OI TO FINAL OI SILVER TODAY: CONTRACTS  : —-662
HISTORICAL ACCUMULATION OF EXCHANGE FOR PHYSICALS  APRIL. ACCUMULATION FOR EFP'S SILVER/JPMORGAN'S HOUSE OF BRIBES/STARTING FROM FIRST DAY/MONTH OF APRIL:
TOTAL CONTACTS for 13 days, total 10,901  contracts:  54.505 million oz  OR 4.19 MILLION OZ PER DAY. (838 CONTRACTS PER DAY)
TOTAL NO OF OZ UNDERGOING EFP TO LONDON 10,901 CONTRACTS X 5,000 PER CONTRACT:
EQUATES TO: 54.505 MILLION OZ
.
LAST 11 MONTHS TOTAL EFP CONTRACTS ISSUED  IN MILLIONS OF OZ:
MAY 137.83 MILLION
JUNE 149.91 MILLION OZ
JULY 129.445 MILLION OZ
AUGUST: MILLION OZ 140.120
SEPT. 28.230 MILLION OZ//
OCT:  94.595 MILLION OZ
NOV: 131.925 MILLION OZ
DEC: 100.615 MILLION OZ
JAN 2022//  90.460 MILLION OZ
FEB 2022:  72.39 MILLION OZ//
MARCH: 207.430  MILLION OZ//A NEW RECORD FOR EFP ISSUANCE AND WE ARE STILL GOING STRONG THIS MONTH.
APRIL: 54.505 MILLION OZ (LOOKS LIKE OUR BANKERS ARE NOW LOATHE TO ISSUE EFP'S)
RESULT: WE HAD A STRONG  SIZED INCREASE IN COMEX OI SILVER COMEX CONTRACTS OF 828 DESPITE OUR  $0.62 LOSS IN SILVER PRICING AT THE COMEX// TUESDAY  THE CME NOTIFIED US THAT WE HAD A STRONG  SIZED EFP ISSUANCE  CONTRACTS: 850 CONTRACTS ISSUED FOR MAY AND 0 CONTRACTS ISSUED FOR ALL OTHER MONTHS) WHICH  EXITED OUT OF THE SILVER COMEX  TO LONDON  AS FORWARDS    THE DOMINANT FEATURE TODAY: /HUGE BANKER SHORT COVERING AS THEY GET OUT OF DODGE//// WE HAVE A HUGE INITIAL SILVER OZ STANDING FOR MAR. OF 4.305 MILLION  OZ  FOLLOWED BY TODAY'S 110,000 OZ QUEUE JUMP//NEW STANDING: 6.410MILLION OZ///  .. WE HAD A STRONG SIZED GAIN 1678 OI CONTRACTS ON THE TWO EXCHANGES FOR 8.39 MILLION  OZ DESPITE THE  THE LOSS IN PRICE.
 WE HAD 80  NOTICES FILED TODAY FOR 400,000 OZ
THE SILVER COMEX IS NOW BEING ATTACKED FOR METAL BY LONDONERS ET AL.
GOLD//OUTLINE
IN GOLD, THE COMEX OPEN INTEREST FELL BY A GOOD SIZED 4410 CONTRACTS  TO 575,557 AND  FURTHER FROM NEW RECORD (SET JAN 24/2020) AT 799,541 AND  PREVIOUS TO THAT: (SET JAN 6/2020) AT 797,110.
THE DIFFERENTIAL FROM PRELIMINARY OI TO FINAL OI IN GOLD TODAY:  -355 CONTRACTS.
THE BIS HAS ABANDONED THE GOLD COMEX TRADING!!!
THE  GOOD SIZED DECREASE IN COMEX OI CAME DESPITE OUR HUGE LOSS IN PRICE OF $26.05//COMEX GOLD TRADING/TUESDAY /.AS IN SILVER WE MUST  HAD  HUGE BANKER/ALGO SHORT COVERING ACCOMPANYING OUR SMALL SIZED EXCHANGE FOR PHYSICAL ISSUANCE. WE HAD ZERO LONG LIQUIDATION
WE ALSO HAD A HUGE INITIAL STANDING IN GOLD TONNAGE FOR APRIL AT 78.33 TONNES ON FIRST DAY NOTICE
YET ALL OF..THIS HAPPENED WITH OUR HUGE LOSS IN PRICE OF   $26.05 WITH RESPECT TO TUESDAY'S TRADING
WE HAD A TINY SIZED LOSS OF 700  OI CONTRACTS (2.174 PAPER TONNES) ON OUR TWO EXCHANGES
E.F.P. ISSUANCE
THE CME RELEASED THE DATA FOR EFP ISSUANCE AND IT TOTALED A GOOD SIZED  3710 CONTRACTS:
The NEW COMEX OI FOR THE GOLD COMPLEX RESTS AT 575,557.
IN ESSENCE WE HAVE A TINY SIZED DECREASE IN TOTAL CONTRACTS ON THE TWO EXCHANGES OF 345, WITH 4055 CONTRACTS DECREASED AT THE COMEX AND 3710 EFP OI CONTRACTS WHICH NAVIGATED OVER TO LONDON. THUS  TOTAL OI LOSS ON THE TWO EXCHANGES OF 345 CONTRACTS OR 1/073 TONNES.
CALCULATIONS ON GAIN/LOSS ON OUR TWO EXCHANGES
WE HAD A GOOD SIZED ISSUANCE IN EXCHANGE FOR PHYSICALS (3710) ACCOMPANYING THE GOOD SIZED LOSS IN COMEX OI (4410,): TOTAL LOSS IN THE TWO EXCHANGES  700 CONTRACTS. WE NO DOUBT HAD 1) HUGE BANKER SHORT COVERING ,2.) HUGE INITIAL STANDING AT THE GOLD COMEX FOR APRIL. AT 78.33 TONNES FOLLOWED BY TODAY'S 1800 OZ QUEUE JUMP //NEW STANDING 82.009 TONNES///  3) TINY LONG LIQUIDATION IF ANY ///. ,4) GOOD SIZED COMEX  OI. LOSS 5) GOOD ISSUANCE OF EXCHANGE FOR PHYSICAL/
HISTORICAL ACCUMULATION OF EXCHANGE FOR PHYSICALS IN 2022 INCLUDING TODAY
APRIL
ACCUMULATION OF EFP'S GOLD AT J.P. MORGAN'S HOUSE OF BRIBES: (EXCHANGE FOR PHYSICAL) FOR THE MONTH OF APRIL :
29,966 CONTRACTS OR 2,996,600 OR 93.206  TONNES 13 TRADING DAY(S) AND THUS AVERAGING: 2305 EFP CONTRACTS PER TRADING DAY
TO GIVE YOU AN IDEA AS TO THE  SIZE OF THESE EFP TRANSFERS :  THIS MONTH IN 13 TRADING DAY(S) IN  TONNES: 93.206TONNES
TOTAL ANNUAL GOLD PRODUCTION, 2020, THROUGHOUT THE WORLD EX CHINA EX RUSSIA: 3555 TONNES
THUS EFP TRANSFERS REPRESENTS  93.206/3550 x 100% TONNES  2.62% OF GLOBAL ANNUAL PRODUCTION
ACCUMULATION OF GOLD EFP'S YEAR 2021 TO 2022
JANUARY/2021: 265.26 TONNES (RAPIDLY INCREASING AGAIN)
 FEB  :  171.24 TONNES  ( DEFINITELY SLOWING DOWN AGAIN)..
MARCH:.   276.50 TONNES (STRONG AGAIN/
APRIL:      189..44 TONNES  ( DRAMATICALLY SLOWING DOWN AGAIN//GOLD IN BACKWARDATION)
MAY:        250.15 TONNES  (NOW DRAMATICALLY INCREASING AGAIN)
JUNE:      247.54 TONNES (FINAL)
JULY:        188.73 TONNES FINAL
AUGUST:   217.89 TONNES FINAL ISSUANCE.
SEPT          142.12 TONNES FINAL ISSUANCE ( LOW ISSUANCE)_
OCT:           141.13 TONNES FINAL ISSUANCE (LOW ISSUANCE)
NOV:           312.46 TONNES FINAL ISSUANCE//NEW RECORD!! (INCREASING DRAMATICALLY)//SIGN OF REAL STRESS//SURPASSING THE MARCH 2021 RECORD OF 276.50 TONNES OF EFP
DEC.           175.62 TONNES//FINAL ISSUANCE//
JAN:2022   247.25 TONNES //FINAL
FEB:           196.04 TONNES//FINAL
MARCH:  409.30 TONNES INITIAL( THIS IS NOW A RECORD EFP ISSUANCE FOR MARCH AND FOR ANY MONTH.
APRIL:  93.206 TONNES (THIS IS GOING TO BE A LOW ISSUANCE MONTH)
SPREADING OPERATIONS
(/NOW SWITCHING TO GOLD) FOR NEWCOMERS, HERE ARE THE DETAILS
SPREADING LIQUIDATION HAS NOW COMMENCED   AS WE HEAD TOWARDS THE  NEW ACTIVE FRONT MONTH OF MAY.WE ARE NOW INTO THE SPREADING OPERATION OF SILVER
HERE IS A BRIEF SYNOPSIS OF HOW THE CROOKS FLEECE UNSUSPECTING LONGS IN THE SPREADING ENDEAVOUR ;MODUS OPERANDI OF THE CORRUPT BANKERS AS TO HOW THEY HANDLE THEIR SPREAD OPEN INTERESTS:HERE IS HOW THE CROOKS USED SPREADING AS WE ARE NOW INTO THE  NON ACTIVE DELIVERY MONTH OF APRIL HEADING TOWARDS THE  ACTIVE DELIVERY MONTH OF MAY, FOR SILVER:
YOU WILL ALSO NOTICE THAT THE COMEX OPEN INTEREST  STARTS TO RISE BUT SO IS THE OPEN INTEREST OF SPREADERS. THE OPEN INTEREST IN WILL CONTINUE TO RISE UNTIL ONE WEEK BEFORE FIRST DAY NOTICE OF AN UPCOMING  ACTIVE DELIVERY MONTH (MAR), AND THAT IS WHEN THE CROOKS SELL THEIR SPREAD POSITIONS BUT NOT AT THE SAME TIME OF THE DAY.  THEY WILL USE THE SELL SIDE OF THE EQUATION TO CREATE THE CASCADE (ALONG WITH THEIR COLLUSIVE FRIENDS) AND THEN COVER ON THE BUY SIDE OF THE SPREAD SITUATION AT THE END  OF THE DAY. THEY DO THIS TO AVOID POSITION LIMIT DETECTION. THE LIQUIDATION OF THE SPREADING FORMATION CONTINUES FOR EXACTLY ONE WEEK AND ENDS ON FIRST DAY NOTICE."
WHAT IS ALARMING TO ME, ACCORDING TO OUR LONDON EXPERT ANDREW MAGUIRE IS THAT THESE EFP'S ARE BEING TRANSFERRED TO WHAT ARE CALLED SERIAL FORWARD CONTRACT OBLIGATIONS AND THESE CONTRACTS ARE LESS THAN 14 DAYS.  ANYTHING GREATER THAN 14 DAYS, THESE MUST BE RECORDED AND SENT TO THE COMPTROLLER, GREAT BRITAIN TO MONITOR RISK TO THE BANKING SYSTEM.  IF THIS IS INDEED TRUE, THEN THIS IS A MASSIVE CONSPIRACY TO DEFRAUD AS WE NOW WITNESS A MONSTROUS TOTAL EFP'S ISSUANCE AS IT HEADS INTO THE STRATOSPHERE. 
First, here is an outline of what will be discussed tonight:
1.Today, we had the open interest at the comex, in SILVER, ROSE BY A STRONG SIZED 828 CONTRACT OI  AND CLOSER TO  OUR COMEX RECORD //244,710(SET FEB 25/2020).  THE LAST RECORDS WERE SET  IN AUG.2018 AT 244,196 WITH A SILVER PRICE OF $14.78/(AUGUST 22/2018)..THE PREVIOUS RECORD TO THAT WAS SET ON APRIL 9/2018 AT 243,411 OPEN INTEREST CONTRACTS WITH THE SILVER PRICE AT THAT DAY: $16.53). AND PREVIOUS TO THAT, THE RECORD  WAS ESTABLISHED AT: 234,787 CONTRACTS, SET ON APRIL 21.2017 OVER  5 YEARS AGO.
EFP ISSUANCE 850 CONTRACTS
OUR CUSTOMARY MIGRATION OF COMEX LONGS CONTINUE TO MORPH INTO LONDON FORWARDS  AS OUR BANKERS USED THEIR EMERGENCY PROCEDURE TO ISSUE:
MAY 850  ALL OTHER MONTHS: ZERO. TOTAL EFP ISSUANCE: 0 CONTRACTS. EFP'S GIVE OUR COMEX LONGS A FIAT BONUS PLUS A DELIVERABLE PRODUCT OVER IN LONDON.  IF WE TAKE THE  COMEX OI GAIN OF 828 CONTRACTS AND ADD TO THE 850 OI TRANSFERRED TO LONDON THROUGH EFP'S,
WE OBTAIN A VERY STRONG SIZED GAIN OF 1678 OPEN INTEREST CONTRACTS FROM OUR TWO EXCHANGES. 
THUS IN OUNCES, THE GAIN  ON THE TWO EXCHANGES 8.390 MILLION OZ
OCCURRED WITH OUR  LOSS IN PRICE OF  $0.62 IN PRICE.
OUTLINE FOR TODAY'S COMMENTARY
1/COMEX GOLD AND SILVER REPORT
(report Harvey)
2 ) Gold/silver trading overnight Europe,
(Peter Schiff,
3. Egon von Greyerz///Matthew Piepenburg via GoldSwitzerland.com,
4. Chris Powell of GATA provides to us very important physical commentaries
We lost a true patriot..
Financial letter writer, gold advocate James Dines dies
Submitted by admin on Tue, 2022-04-19 21:28Section: Daily Dispatches
From The Dines Letter, Belevedere, Califnrnia
Tuesday, April 19, 2022
https://www.dinesletter.com/index.html
Dear Subscribers:
It is with great sadness that we announce the passing of Mr. Dines at his home in California last week.
Mr. Dines was not only wonderful to work for but gracious and generous with his wisdom. We are grateful that he had a long, productive, and fulfilling life, which he willingly shared with all of us.
As his loyal Dines Letter readers were always his top priority, we wanted to inform you today, and didn't want to wait for the next issue.
More details will follow in the next The Dines Letter, scheduled for publication on April 29.
Sincerely,
The Dines Letter Team
end
5. Other gold commentaries
Mises…
a must read!
Is There A Case For The Pre-1914 Gold Standard? Yes, If You Believe Inflation Is A Bad Thing
TUESDAY, APR 19, 2022 – 11:25 PM
Authored by Vibhu Vikramaditya via The Mises Institute,
The Russian central bank recently announced that it will stop buying gold at a fixed rate and will instead buy them at the negotiated rate from banks. Following the numerous sanctions which were imposed on Russia. The Ruble had fallen tremendously against the US dollar, to get out of such a situation it had announced that it would buy gold at a fixed price of 5,000 rubles a gram until June 30. Since that announcement, the ruble has strengthened sharply against the dollar for over one month. Five thousand rubles was worth around $52 on March 25 and around $63 on Thursday.
The mechanism which led to the increase was to allow the markets to play themselves out, in order to combat sanctions, they asked the nations to transact in their currency which, due to the extensive and growing array of sanctions by the western front, was becoming devalued by each day. It was here, by demanding payment in rubles, are attempting to increase demand for their currency which led to its increase where being pegged to hard currency allowed the confidence of the markets to increase so ruble wasn't dumped extensively
But because once you allow for sound money such as gold pegged to your currency which is dictated by the effective allocating mechanism of the market you cannot ignore the market valuation any longer, therefore the bounce-back and effective strengthening of the ruble which took place more and earlier than expected has now forced them to abandon the fixed-rate currency and move towards a more flexible exchange rate mechanism which would allow them to set the rates effectively in line with the motivation of sellers while discounting for factors such as immediacy, global credit standing and the turns of the global economy.
A classical gold standard requires the central bank to exchange by the process of both purchasing and selling gold and the national currency for each other and to do so according to a fixed weight or quantity of gold per unit of currency. Thus, while neither the pegged currency nor the negotiated rates of exchange comprise the classical gold standard, they nonetheless serve as a great case study into the commendatory effects of having hard money serving as the medium of change in the economy.
In the much-celebrated book of his time, Tract on Monetary Reform, economist John Maynard Keynes urged the United States and Great Britain to abandon the gold standard, calling it a "barbarous relic." In the decades that followed the book's publication, countries around the globe heeded Keynes' advice and relegated the gold standard to the dust bin. It is one of the great historical ironies that almost every advice of from Keynes was taken up by the world in the latter half of the 20th century and that none of the supposed benefits of stability, full employment have come to fruition.
The Problem of Gold standard in the Keynesian system
 Keynes's dictum on the gold standard has become the fountainhead of claims against a return back to the gold standard.
Keynes in his analysis found the gold standard to be a barbarous relic of the past that was unscientific and unfit to meet the demands of a modern world.
It is his arguments against the gold standard which have been repeated time and again, thus they serve as an excellent case for demonstration as to why the gold standard is superior based on the very allegations which are leveled against it.
Inflation and Gold standard
He wrote in his tract on monetary reform about the ills of inflation " Inflation redistributes wealth…. Its most striking consequence is its injustice to those who in good faith have committed their savings to titles to money rather than to things…. Injustice on such a scale has further consequences…. Inflation has… destroyed the atmosphere of confidence which is a condition of the willingness to save….
Reading this one might form the opinion that the author of such lines might be highly unsavory and unscrupulous towards a monetary regime which causes destruction of the price mechanism and people's stored up wealth through the artificial increase in prices but unfortunately one cannot do so without committing a grave error as both instances in modern history when prices have run amok namely the stagflation of the 70s and the massive rise in prices of around 10% today are both a result of Keynesian economics.
The most widely recognized virtue of the historical gold standard is its low average inflation rate. The rate of inflation was lowest, on average, under the gold standard when compared with the Bretton woods system of a pegged dollar and fluctuating system of fiat dollar reserve. (p. 30).
This was the era of the classical gold standard which lasted from 1880 to 1914, Inflation over this time period, while it fluctuated on a year-to-year basis, was virtually zero, and as a result, prices whose proper role lies in giving signals about market scarcity ensured proper allocation of resources due to which real income per capita in the United States increased by over 60 percent in a generation and a half. This low inflation is not a coincidence but a direct effect that is to be expected when the money supply is bound to the supply of gold. While the central bank can create thousands of dollars out of thin air to increase the money supply with its high stock to flow ratio, gold has the lowest price elasticity of supply, which is calculated as the percentage increase in quantity provided over price rise.
This implies the effects of the increased supply which would be prompted by increases in the price of gold through higher demand would be quite insignificant to cause changes in the absolute price level. For instance, the year 2006 witnessed a 36% rise in the spot price of gold. For any other commodity, this would be expected to increase mining output significantly to flood markets and bring the price down. Instead, annual production in 2006 was 2,370 tons, 100 tons less than in 2005, and it would drop a further 10 tons in 2007. (p. 34).
Read More @ HarveyOrganBlog.com