by Pam Martens and Russ Martens, Wall St On Parade: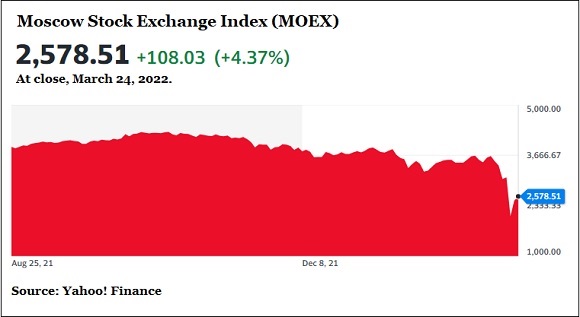 With U.S. President Joe Biden arriving in Brussels today for three summits with NATO, the G7 and the European Union, Russian President Vladimir Putin attempted to put on a big show of normalcy for the citizens of Russia by reopening the Moscow Stock Exchange for stock trading after a month's closure. The exchange, known as the MOEX, shuttered stock trading after the trading session on February 25, the day after Putin's invasion of Ukraine.
On February 24, the day of the Ukraine invasion, the MOEX index had plunged by as much as 45 percent before paring the losses to 33 percent by the close. After the MOEX shuttered trading, many of the Russian companies were trading for pennies on the London Stock Exchange before it also suspended trading in Russian companies.
TRUTH LIVES on at https://sgtreport.tv/
The reopening of the MOEX today for stock trading was hardly an exercise in price discovery. The Russian government had previously announced on March 1 that its Finance Ministry would use up to $10.3 billion from the National Wealth Fund to prop up share prices of Russian companies by buying up shares. It is highly likely that this figure is a vast understatement if the Moscow Stock Exchange is to remain open, even for partial trading sessions each day.
When we say the trading was stage-managed, we're not engaging in hyperbole. The trading was shortened to just a four-hour session, lasting from 10 a.m. to 2 p.m. Moscow time. Foreigners were not allowed to sell their shares. Only 33 companies were allowed to trade or about 15 percent of listed shares. Short-selling was banned. (Short-selling means betting on a decline in price.)
It was evident by the trading today on the MOEX that the major beneficiaries of that $10.3 billion largess from the National Wealth Fund were the largest state-owned energy companies in Russia. Rosneft closed up 16.97 percent while Gazprom closed with a gain of 13.38 percent.
Other Russian shares weren't getting so much love. Russia's largest bank, Sberbank, closed with a gain of just 3.90 percent while VTB Bank lost 5.52 percent by the close, after being down double digits earlier in the session. The Russian airline, Aeroflot, lost a whopping 16.44 percent by the close after losing 20.5 percent during intraday trading. Another loser was Mobile TeleSystems, which closed down 5.47 percent. Severstal, a Russian steel and mining company, gave up 2.66 percent.
Foreign fund managers have little reason to want to do anything but sell Russian stocks. The global index provider, MSCI, declared the market "uninvestable" after Putin's invasion of Ukraine and removed Russian stocks from its global indices. More than 400 corporations, including many of the most famous brands in the world, have announced that they are severing business ties with Russia, or closing their stores there, or suspending shipments of products to Russia. (See graphic below.)
The fact that there was far more selling pressure occurring today than buying was evidenced by the fact that the MOEX index was initially up as much as 10 percent before fading into the close to post a gain of just 4.37 percent. If that's all it can muster with government funds of $10.3 billion propping up share prices, it will be interesting to see what tomorrow brings. Markets, in the best of times, are jittery on a Friday, not knowing what major news might break over the weekend closure. But with the U.S. suggesting Putin could roll out chemical or nuclear weapons in Ukraine at any time, it's going to be tough for the Moscow Stock Exchange to sustain even a tepid rally for any significant period of time.
Read More @ WallStOnParade.com