by Chris Menahan, Information Liberation: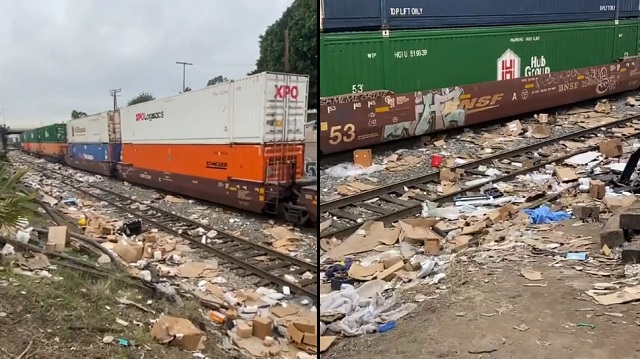 Viral video out of Los Angeles shows the aftermath of seemingly endless lootings of Union Pacific trains carrying packages for Amazon, UPS, FedEx and more.
From CNN:
Photos and videos showing piles of empty boxes littered alongside rail tracks in Los Angeles County, California have gone viral as shipping companies say they've seen a dramatic spike in railroad theft. Some of the boxes are packages from companies like UPS, Amazon and FedEx.
TRUTH LIVES on at https://sgtreport.tv/
Keep hearing of train burglaries in LA on the scanner so went to #LincolnHeights to see it all. And… there's looted packages as far as the eye can see. Amazon packages, @UPS boxes, unused Covid tests, fishing lures, epi pens. Cargo containers left busted open on trains. @CBSLA pic.twitter.com/JvNF4UVy2K

— John Schreiber (@johnschreiber) January 13, 2022
I'm told by law enforcement these @UPS bags are especially sought after by thieves opening cargo containers… they are often full of boxes with merchandise bound for residential addresses. More valuable than say, a cargo container full of low value bulky items like toilet paper. pic.twitter.com/Tj5bQNIeby

— John Schreiber (@johnschreiber) January 13, 2022
This opened package from @REI destined for Bainbridge Island, WA was taken off a train. Typing in the @UPS tracking # and it obviously lists it as "delayed." We found lots of opened packages bound for the Northwest along this section of tracks. pic.twitter.com/dO82QoJhTT

— John Schreiber (@johnschreiber) January 13, 2022
Missing a package? Shipment delayed? Maybe your package is among the thousands we found discarded along the tracks. This is but one area thieves have targeted trains. We were told this area was just cleaned up 30 days ago so what you see is all within the last month. @CBSLA pic.twitter.com/43002DPyZa

— John Schreiber (@johnschreiber) January 13, 2022
New Today: My colleague @CBSLAKristine spoke with @UnionPacific about train theft and they forwarded her this letter they sent to LA County DA in December. UP says they arrested > 100 people in last 3 months but many were fined and released within 24 hours. https://t.co/YyqKkxvaWE

— John Schreiber (@johnschreiber) January 14, 2022
Union Pacific, one of the country's largest railroad companies, says it may avoid operating in Los Angeles County following the spike in thefts, which it blames on lax prosecution of crimes. […]

The company claims that a December 2020 special directive issued by District Attorney George Gascón that changed how low-level offenses are prosecuted has contributed to the uptick.

Union Pacific said in its letter that in the last three months of the year it made over 100 arrests of "active criminals vandalizing our trains" in partnership with the LA police department and Los Angeles Sherriff department. But Union Pacific, which has its own police department with jurisdiction over the 32,000 miles of tracks it owns, said that even as it has expanded its security resources and partnered more closely with local law enforcement, the problem isn't going away. After being arrested individuals are released from custody within 24 hours, it said.
Here's an example out of Chicago from around a year and a half ago showing what these train lootings look like:
CNN unironically blamed the looting on socioeconomic factors:
Crime is associated with increases in poverty, which has increased during the pandemic.
If that's true then why aren't we seeing scenes like this in Appalachia?
We all saw the fellas jamming loot into their Bentleys and Mercedes during the Summer of Floyd.
Read More @ InformationLiberation.com