from ZeroHedge: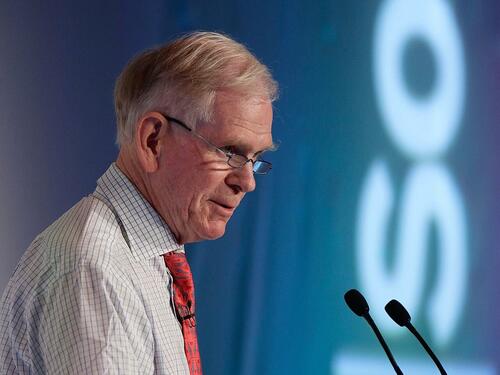 It was several years ago when Jeremy Grantham quietly turned from stock bull to vocal permabear, and while his market notes turned breathlessly alarmist (if only to those who were long his multi-billion fund GMO), such as this from June 2020 "Stock-market legend who called 3 financial bubbles says this one is the 'Real McCoy,' this is 'crazy stuff'", it wasn't until early 2021 that Grantham's warnings of an imminent crash became especially shrill… and spectacularly wrong. Recall, back in January 2021, Grantham wrote that "Bursting Of This "Great, Epic Bubble" Will Be "Most Important Investing Event Of Your Lives", while was followed by warnings of a "Spectacular" Crash In "The Next Few Months."
TRUTH LIVES on at https://sgtreport.tv/
Needless to say, no crash followed as the Fed and other central banks went all in on stabilizing the market, resulting in an epic year for risk assets which closed 2021 at all time highs, while GMO suffered not only steep losses but also substantial redemptions, a humiliating outcome for Grantham who had previously called the bursting of both the dot com and housing bubbles, but failed to account for just how determined the Fed is to avoid another bubble bursting.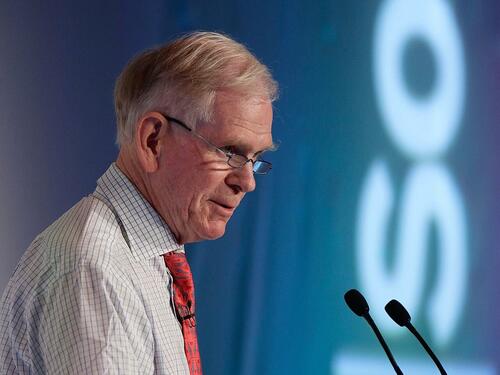 But with stocks again swooning on fears Fed support of gradually fading, it didn't take long for the 83-year-old Grantham to publish his most apocalyptic note yet, "Let The Wild Rumpus Begin" out this morning, in which he revisits the familiar them that we are currently living in a superbubble – only the fourth of the past century – and like the crash of 1929, the dot-com bust of 2000 and the financial crisis of 2008, Grantham is "nearly certain" the bursting of this bubble has begun, sending indexes back to statistical norms and possibly further.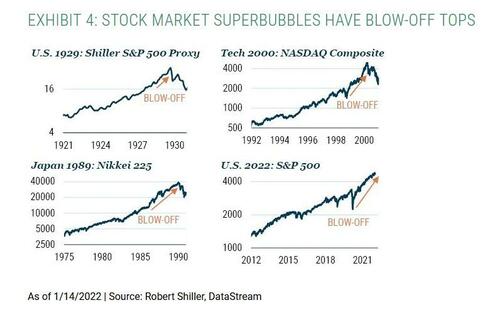 How much lower? The iconic value manager sees the S&P tumbling by nearly 50% to 2,500 from its all time highs of 4,800 just a few weeks ago. The Nasdaq Composite, which closed in a technical correction on Wednesday down 10% from its all time high, may sustain an even bigger correction.
"I wasn't quite as certain about this bubble a year ago as I had been about the tech bubble of 2000, or as I had been in Japan, or as I had been in the housing bubble of 2007," Grantham told Bloomberg in a "Front Row" interview. "I felt highly likely, but perhaps not nearly certain. Today, I feel it is just about nearly certain."
The signs that Grantham has been looking at are hardly a secret: the first indication that the bursting of the superbubble has begun came last February, when dozens of the most speculative stocks began falling. One proxy, Cathie Wood's ARK Innovation ETF, has since tumbled by 52%. Next, the Russell 2000, an index of mid-cap equities that typically outperforms in a bull market, trailed the S&P 500 in 2021. Indeed, many of the bubble baskets which are a proxy of central bank liquidity, have been sharply lower for the past year with a handful of exceptions.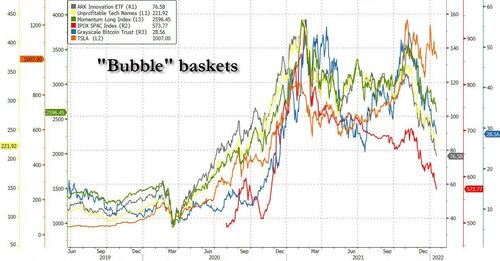 Grantham also points to the kind of "crazy investor behavior" indicative of a late-stage bubble: meme stocks, a buying frenzy in electric-vehicle names, the rise of nonsensical cryptocurrencies such a dogecoin and multimillion-dollar prices for non-fungible tokens, or NFTs. However, while it has certainly become more subdued, as the following chart of single stock option activity from Goldman shows, retail is still solidly in the market.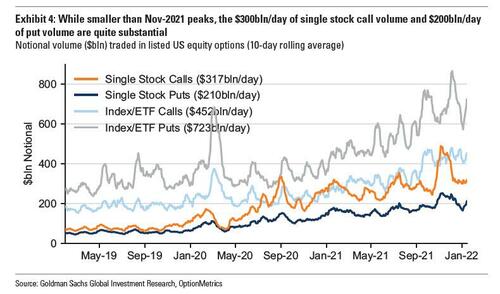 "This checklist for a super-bubble running through its phases is now complete and the wild rumpus can begin at any time," Grantham, writes adding that "when pessimism returns to markets, we face the largest potential markdown of perceived wealth in U.S. history"
To be sure, Grantham admits that he may not have timed the top perfectly, but says it's only a matter of time before the bubble bursts. In the meantime, we are living in the "vampire phase of the bull market" which will survive for a while but eventually it "keels over and dies. The sooner the better for everyone", to wit: