by Nathaniel Charles, Breitbart: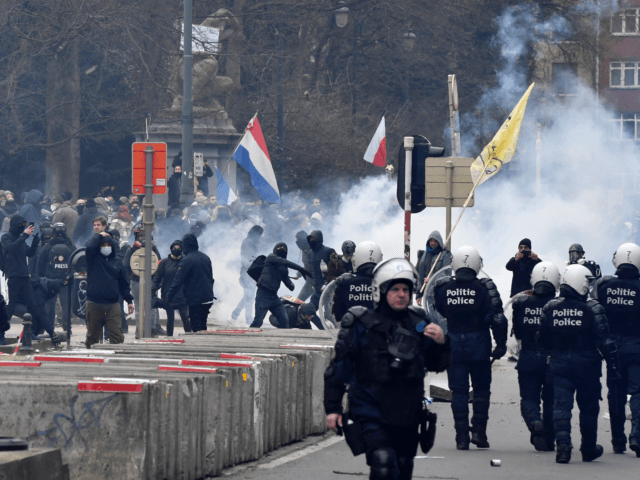 Belgian police clashed with protestors on Sunday during a 50,000 strong demonstration against coronavirus restrictions and mandatory vaccinations.
Belgian police were filmed using water cannons, pepper spray, and batons on protestors demonstrating against Chinese coronavirus restrictions and mandatory vaccinations in European Union nations in the bloc's capital city of Brussels.
TRUTH LIVES on at https://sgtreport.tv/
The police reported that in total there were an estimated 50,000 people in attendance, however, the organisers contest this number and claim there were at least half a million people present at the march.
The protest initially started peacefully and speakers gave speeches about ending coronavirus restrictions in Europe. A variety of different people from across the political spectrum, as well as different nationalities, were in attendance, with some dressing in costumes ranging from Jesus to biohazard suits,
It is unclear who started the scuffles between the protestors and the police but violence was seen from both sides, with fights breaking out between protestors and police officers across the Belgian capital.
BRUXELLES – Les manifestants chargent les policiers. Canon à eau en retour, puis les forces de l'ordre recule. Violentes tensions. pic.twitter.com/7cDbVRoAfS

— Clément Lanot (@ClementLanot) January 23, 2022
The rally was reported to have been organised by the Children's Health Defense Europe, which is demanding a "European moratorium on health restrictions" to protect the mental and physical wellbeing of European children.
The organisation is run by Robert F. Kennedy Jr, the nephew of former U.S. President John F. Kennedy, and a prominent critic of lockdown measures.
The Belgian newspaper Gazet van Antwerpen (GVA) reports that even before the march began, six people were arrested for having "dangerous objects". In total, sixty people have been arrested so far, with at least three officers and twelve demonstrators injured.
The main violence occurred after the speeches that were concluded at 2 pm, with GVA claiming that a group of masked men attacked the police with makeshift weapons and smashed several buildings' windows in the European Quarter of Brussels.
In the photos supplied by GVA, an Antifa flag can be seen surrounded by men wearing black clothing and ironically masks.