by Wolf Richter, Wolf Street:

Another testimony of the massive changes in society and the economy. But losing some of the enormous steam.
New business formations in December, based on applications for an Employer Identification Number (EIN) with the IRS, jumped another 20% from the already high December last year, and by 34% from December 2019, according to the Census Bureau.
The explosion of business applications began in June 2020 when stimulus checks, extra unemployment benefits, PPP loans, and other government moneys washed over the land – and when millions of jobs just vanished. And it continued through December 2021. But the spike has been losing some steam in recent months:
TRUTH LIVES on at https://sgtreport.tv/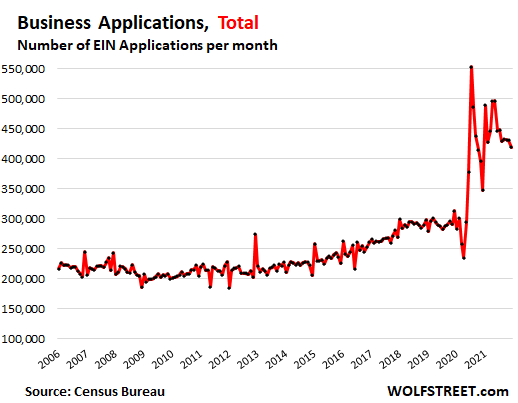 These huge numbers of new business formations every month since June 2020 are a piece of the bizarre puzzle of labor shortages, combined with huge record numbers of people who quit their jobs – a record  4.31 million workers "quit" in the private sector in November, up 30.6% from November 2019 – mostly to take a job with better pay as companies got aggressive in recruiting by offering higher compensation and better working conditions.
But some of them quit for other reasons, including because they've had it, and they've come up with a plan, and they've got the resources, and they struck out on their own and started a new business – not some gig, for which they can just use their Social Security  number, but a new business for which they filed an EIN application with the IRS.
For the whole year, 5.39 million EIN applications were filed with the IRS, up by 42% from the last "normal" year, 2019, after a record 4.35 million EIN applications were already filed in 2020. The pandemic years are shown in red: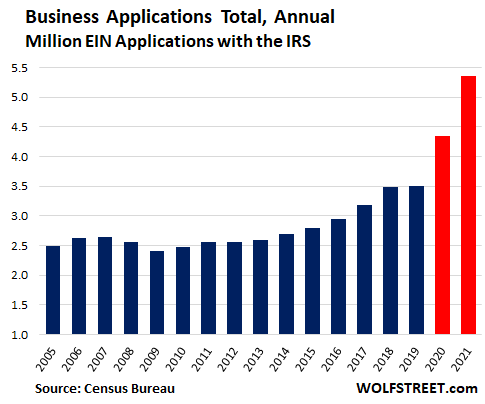 In other words, 5.39 million businesses were started in 2021 by people, many of whom quit their jobs to do so, and some of them might have gotten started while working from home for their employer, and when they were ready to make the jump, they quit their job and became their own boss.
Between 2020 and 2021, nearly 10 million businesses were started. This is a huge number and a testimony of a massive change in the economy and society – and it explains a portion of the record high "quits" in 2021.
EIN applications that were unrelated to typical business formations, such as for tax liens, estates, trusts, etc., were removed from the data by the Census Bureau.
These business applications are split into categories, based on what the probabilities are of major job creation. Most new businesses will create a job for the owner and maybe for a few other people and never become large employers.
This ranges from an online retailer headquartered in dude's and dudette's garage to a mergers-and-acquisitions shop by two lawyers that decided to combine their brains and rake in the big bucks out of their home offices. These small businesses can be exciting and rewarding, and being your worst boss is a great way to go. But most of these businesses will not become big job creators.
Businesses with "High-Propensity of Planned Wages": The job creators.
The Census Bureau categorizes businesses with a high likelihood of creating a significant payroll as "High-Propensity of Planned Wages" business applications (HBA), based on the information in the EIN application.
In December, there were 137,254 EIN applications that the Census Bureau classified as HBAs, up by 21% from December last year and by 18% from December 2019. For the whole year, 1.77 million HBAs were filed, up by 24% from 2019.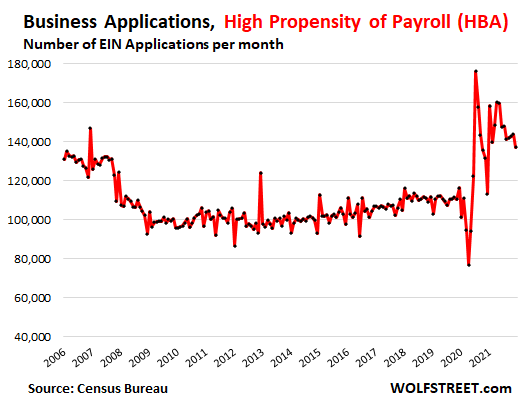 Businesses with "Planned Wages": They're scarce.
Within the HBAs is the subgroup of real job creators, those with a planned date for their first payroll indicated in their EIN application. These "Business Applications with Planned Wages" (WBA) have funding and they're ready to hire and pay wages. These are the businesses that are most likely to grow their payroll and become significant employers.
In December, there were 48,483 WBAs, up 19.6% from a year ago, and up 22.5% from two years ago. For the whole year, 637,669 WBAs were filed, up by 24% from 2019. But this is far lower than in the years 2006 and before: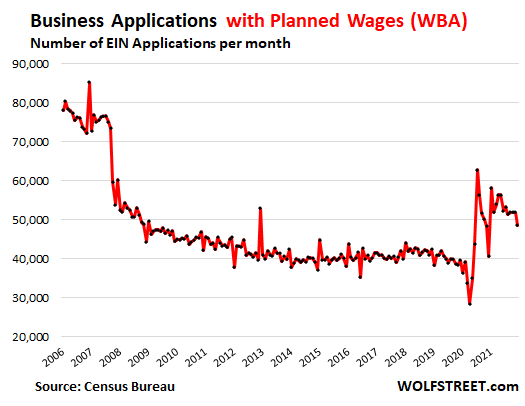 Where the action is: New businesses with a low propensity to create jobs.
The number of EIN applications by businesses with a low propensity to become significant job creators rose 20% in December from a year ago, and by 43% from December 2019, to 281,126 applications.
For the whole year 2021, compared to 2019, applications jumped by 53%, to 3.6 million.
The number of EIN applications for these types of businesses roughly doubled from 91,000 per month on average in 2007 to 183,000 per month on average in 2019. In 2021, they reached 301,000 on average per month.
In other words, 3.6 million businesses were started in 2021 by people who might never hire anyone else, but many of those entrepreneurs quit jobs to chase after their dream, and be their own boss. That's where the majority of the massive shift in American society and economy is concentrated – not big well-funded startups: