by Harvey Organ, Harvey Organ Blog: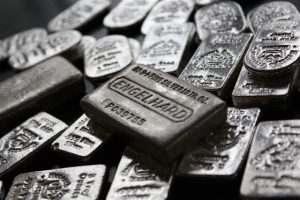 GOLD DOWN 19.80 TO 1762.25//SILVER DOWN 6 CENTS TO $22.30//GOLD STANDING AT THE COMEX RISES TO 95.3 TONNES//SILVER OZ STANDING DROPS TO 45 MILLION OZ COVID COMMENTARIES///HUGE VACCINE MANDATES//SWAMP STORIES FOR YOU TONIGHT
TRUTH LIVES on at https://sgtreport.tv/
GOLD:$1762.25 DOWN $19.80   The quote is London spot price
Silver:$22.30  DOWN 6  CENTS  London spot price ( cash market)
Gold $1768.300
silver:  $22.40
PLATINUM AND PALLADIUM PRICES BY GOLD-EAGLE (MORE ACCURATE)
PLATINUM  $941.60 UP  $7.00
PALLADIUM: $1785.00 UP $40.00/OZ
Editorial of The New York Sun | February 1, 2021
end
DONATE
Click here
 if you wish to send a donation. I sincerely appreciate it as this site takes a lot of preparation.
COMEX DETAILS//NOTICES FILED
JPMorgan has been receiving gold with reckless abandon and sometimes supplying (stopping)
receiving today 7384/17,206
EXCHANGE: COMEX
CONTRACT: DECEMBER 2021 COMEX 100 GOLD FUTURES
SETTLEMENT: 1,781.600000000 USD
INTENT DATE: 12/01/2021 DELIVERY DATE: 12/03/2021
FIRM ORG FIRM NAME ISSUED STOPPED
____________________________________________________________________________________________
072 C GOLDMAN 498
072 H GOLDMAN 3350
099 H DB AG 1200
118 C MACQUARIE FUT 825
132 C SG AMERICAS 96
332 H STANDARD CHARTE 383
363 H WELLS FARGO SEC 455
365 H ED&F MAN CAPITA 6
435 H SCOTIA CAPITAL 584
523 C INTERACTIVE BRO 1
624 C BOFA SECURITIES 50
624 H BOFA SECURITIES 11701
657 C MORGAN STANLEY 4
661 C JP MORGAN 7384
686 C STONEX FINANCIA 1
690 C ABN AMRO 1
709 C BARCLAYS 4289 1395
732 C RBC CAP MARKETS 62
737 C ADVANTAGE 2
800 C MAREX SPEC 15 95
880 C CITIGROUP 183
880 H CITIGROUP 1704
905 C ADM 128
____________________________________________________________________________________________
TOTAL: 17,206 17,206
MONTH TO DATE: 29,197
Goldman Sachs stopped:498
NUMBER OF NOTICES FILED TODAY FOR  DEC. CONTRACT: 17,206 NOTICE(S) FOR 24,960,000 OZ  (53.5178 tonnes)
TOTAL NUMBER OF NOTICES FILED SO FAR THIS MONTH:  29,197 FOR 2,919,700 OZ  (90.814 TONNES)
SILVER//DEC CONTRACT
4991 NOTICE(S) FILED TODAY FOR  24,960,000   OZ/
total number of notices filed so far this month 8099  :  for 40,495,000  oz
BITCOIN MORNING QUOTE   $56,337 DOWN $530
BITCOIN AFTERNOON QUOTE.:56,867 DOWN $1272
xxxxxxxxxxxxxxxxxxxxxxxxxxxxxxxxxxxxxxxxxxxxx
GLD AND SLV INVENTORIES:
Gold
WITH GOLD DOWN $19.80 AND NO PHYSICAL TO BE FOUND ANYWHERE:
A HUGE CHANGES IN GOLD INVENTORY AT THE GLD: A WITHDRAWAL  OF 2.83 TONNES FROM THE GLD/
WITH RESPECT TO GLD WITHDRAWALS:  (OVER THE PAST FEW MONTHS)
GOLD IS "RETURNED" TO THE BANK OF ENGLAND WHEN CALLING IN THEIR LEASES: THE GOLD NEVER LEAVES THE BANK OF ENGLAND IN THE FIRST PLACE. THE BANK IS PROTECTING ITSELF IN CASE OF COMMERCIAL FAILURE
ALSO INVESTORS SWITCHING TO SPROTT PHYSICAL  (phys) INSTEAD OF THE FRAUDULENT GLD//
THIS IS A MASSIVE FRAUD!!
GLD  990 ,02 TONNES OF GOLD//
Silver
AND WITH NO SILVER AROUND  TODAY: WITH SILVER DOWN 6 CENTS
NO CHANGES  IN SILVER INVENTORY AT THE SLV:
INVESTORS ARE SWITCHING SLV TO SPROTT'S PSLV
WITH REGARD TO SILVER WITHDRAWALS FROM THE SLV:
THE SILVER WITHRAWALS ARE ACTUALLY "RETURNED" TO JPM, AS JPMORGAN CALLS IN ITS LEASES WITH THE SLV FUND.  (THE STORY IS THE SAME AS THE BANK OF ENGLAND'S GOLD). THE SILVER NEVER LEAVES JPMORGAN'S VAULT. THEY ARE CALLING IN THEIR LEASES FOR FEAR OF SOLVENCY ISSUES.
INVENTORY RESTS AT:
548.002  MILLION OZ./SLV
xxxxx
GLD closing price//NYSE 166.16  UP 0.66 OR 0.40%
XXXXXXXXXXXXX
SLV closing price NYSE 20.57 DOWN. 0.49 OR  2.33%
XXXXXXXXXXXXXXXXXXXXXXXXX
xxxxxxxxxxxxxxxxxxxxxxxxxxxxxxxxxxxxxxxxxxxxxxxxxxxxxxxxxxxxxxxxxxxxxxxxxx