by Chris Menahan, Information Liberation:
Parag Agrawal kicked off his first day as the new CEO of Twitter by using the site's "What's happening" tab for PR to try and explain away his old anti-white tweets and instituted new rules to ban the sharing of "media of private individuals without the permission of the person(s) depicted."
As I reported Monday, Agrawal posted a quote in the past suggesting that "white people" and "racists" are one and the same and said just last year he doesn't want the platform to be "bound" by the First Amendment.
TRUTH LIVES on at https://sgtreport.tv/
"If they are not gonna make a distinction between muslims and extremists, then why should I distinguish between white people and racists."

— Parag Agrawal (@paraga) October 26, 2010
A year or so ago, Twitter replaced it's "Trending" tab on the right with a fake "What's happening" tab that's curated by their administrators. The purpose was to prevent anything from trending which they didn't want and give Twitter admins more control over what people were discussing.
On Tuesday, Agrawal used the fake trending tab to post a "News" story saying: "An old Tweet from Parag Agrawal is a quote from a television show and is a satirical take on stereotypes, journalists report."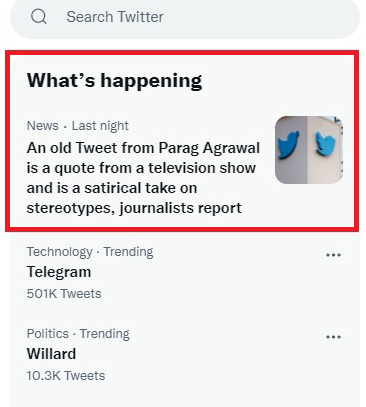 "An 11-year-old Tweet from new Twitter CEO Parag Agrawal quotes a line from The Daily Show with Jon Stewart guest Aasif Mandvi and is satire, according to The Wrap, VICE and Mashable. The quote reflects a satirical take on stereotypes, The Wrap reports. Indian-born Agrawal became CEO of Twitter on November 29 following the resignation of Jack Dorsey," Twitter's post says, which reads like satire itself.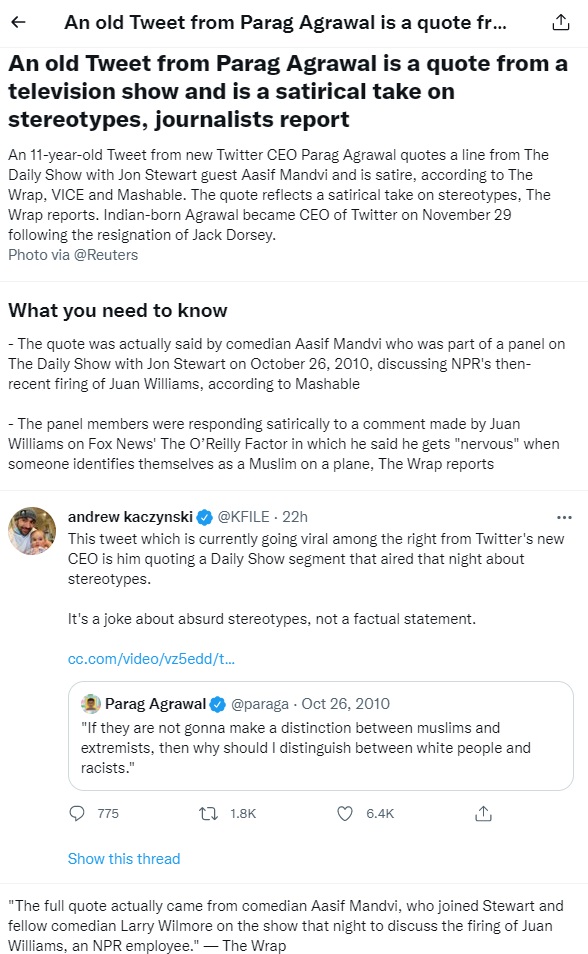 Agrawal did not issue any statement apologizing nor even addressing his anti-white comments himself.
Perhaps tomorrow Agrawal should make the top trend a story about how "journalists" are reporting how handsome and smart and charming he is?
Agrawal told the MIT Technology Review last year while he was Twitter CTO: "Our role is not to be bound by the First Amendment, but our role is to serve a healthy public conversation and our moves are reflective of things that we believe lead to a healthier public conversation. The kinds of things that we do about this is, focus less on thinking about free speech, but thinking about how the times have changed."
In that vein, Agrawal decided to institute a new rule banning the sharing of "media of private individuals without the permission of the person(s) depicted."
Read More @ InformationLiberation.com