from The Epoch Times: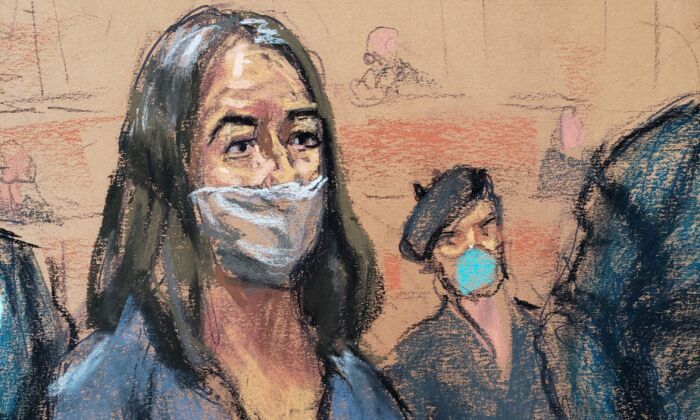 The morning began with testimony from Paul Kane, the director of finance at Professional Children's School in New York City.
Prosecuting attorney Andrew Rohrbach questioned Kane about student files. Each student at the school has a file that includes financial aid, transcripts, college applications, and recommendations.
The prosecution's witness from Dec. 2, an alleged victim referred to only as "Jane," attended this school.
TRUTH LIVES on at https://sgtreport.tv/
This was quickly objected to by defense attorney, Laura Menninger, as hearsay. It was overruled.
Menninger also argued to the court that there is third-party handwriting on the application and its accuracy is not verified.
The evidence was offered again, and objected to again, leading to a sidebar.
Ultimately, it was admitted under seal.
Written on the application, under "financial responsibility," was "Mr. Jeffery Epstein."
Under cross-examination by Menninger, Kane testified he was not sure if Epstein did indeed pay for the tuition.
The prosecution called its first expert witness, Dr. Lisa Rocchio, a clinical and forensic psychologist.
She rattled off her list of qualifications, including treatment and evaluation of children who've suffered sexual abuse.
Rocchio disclosed that she's being paid for her services by the prosecution.
She spoke in great detail about "grooming," which is a series of deceptive practices to engage children in sexual activities.
Rocchio explained the five stages of grooming.
The first is the selection and identification of a victim, usually from a vulnerable population.
The second is access and isolation, usually a location where children are regularly present.
Lies and deception to gain trust are third. The perpetrator will meet the needs of the potential victim, making him or her "feel unique, or special in some way," accompanied by money and access to things they don't have.
Fourthly, the perpetrator will desensitize the victim to touch, "slowly and gradually moving the line" of what's appropriate. Hugs may escalate.
The perpetrator will also normalize sex, possibly with dirty jokes at first, then risque movies that evolve into pornography, and then actual sexual abuse.
And lastly, by maintaining a relationship through control over the victim, the perpetrator has less of a chance of being exposed.
Rocchio added victims are often from families with financial difficulties, or single parents.
She spoke of "delayed disclosure," where the younger the victim, the less likely he, or she, will disclose the abuse, but will eventually do so in adulthood.
The five stages of grooming, as well as Rochhio's additional testimony, corroborated Jane's testimony from Dec. 2, mirroring it on just about every aspect.
During Rocchio's direct testimony, there were several objections from defense attorney Jeffery Pagliuca.
Judge Alison Nathan referred to two of them as "conflicting objections."
Under cross-examination, Pagliuca attempted to discredit the five stages of grooming, starting by saying there are scientific disagreements about the subject, specifically her version of it.
He had her admit she hasn't given any of the witnesses a physiological evaluation and she's being paid up to $45,000 for her services to the prosecution.
Pagliuca moved on to how delays in disclosure are sometimes reliant on unreliable memory.
There were three objections to this line of questioning from prosecuting attorney Lara Pomerantz. All were sustained.
Pagliuca asked Rocchio about "confabulation," where the brain connects the dots of events, and blanks that are filled in aren't accurate.