by Stefan Stanford, All News Pipeline: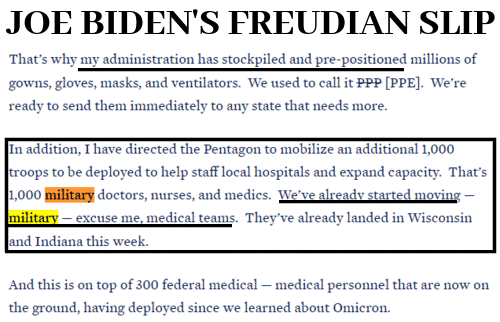 While listening to the 'babbler-in-chief' on Tuesday, Susan Duclos and I couldn't help but notice that seemingly every other word out of 'the babblers' mouth were the words 'vaccinated' and 'vaccine', with the White House transcript showing Biden mentioned 'the V-words' at least a whopping 48 times, the words 'booster' or 'boosted' 21 times, while he called out 'the unvaccinated' at least 11 times during his brief (but still waaaaay too long) diatribe.
Completely contradicting previous statements he had made back in July of 2021, when he bluntly said the vaccinated couldn't get COVID, this time 'babble' admitted "Vaccinated people who get COVID may get ill, but they're protected from severe illness and death." Although as anyone who follows the independent media knows, the 'fully vaccinated' and 'boosted' are indeed still dying from COVID.
TRUTH LIVES on at https://sgtreport.tv/
And while we could write an entire series of stories on the opinions of various doctors and scientists and other so-called 'experts' on whether or not the 'v' actually works or not, and why the 'v' itself is leading to people's deaths, we're going to take a look instead at more reasons why Biden's speech gives Americans a reason to stay especially vigilant in the days, weeks and months ahead, though not because of 'COVID'.
With Biden making a series of remarks within his address to the American people that hinted of danger ahead NOT of the COVID-variety, those remarks included one Biden 'Freudian slip' as seen in the screenshot above we highlighted from this White House Briefing Room story on Biden's remarks on Tuesday. Biden's remarks straight from the White House with his Freudian slip included.:
That's why my administration has stockpiled and pre-positioned millions of gowns, gloves, masks, and ventilators. We used to call it PPP [PPE]. We're ready to send them immediately to any state that needs more. 
In addition, I have directed the Pentagon to mobilize an additional 1,000 troops to be deployed to help staff local hospitals and expand capacity. That's 1,000 military doctors, nurses, and medics. We've already started moving — military — excuse me, medical teams. They've already landed in Wisconsin and Indiana this week. 
And this is on top of 300 federal medical — medical personnel that are now on the ground, having deployed since we learned about Omicron.
With Biden using very blatant military terminology in his address to the nation, with military assets often pre-positioned prior to invasions or other military actions, while all across America we're now witnessing the National Guard being called up to do work that people who refused the 'v' and were then 'terminated' can no longer do, why did Biden say 'we've already started moving MILITARY, excuse me, MEDICAL teams'? There is no doubt that something much bigger than COVID is at play!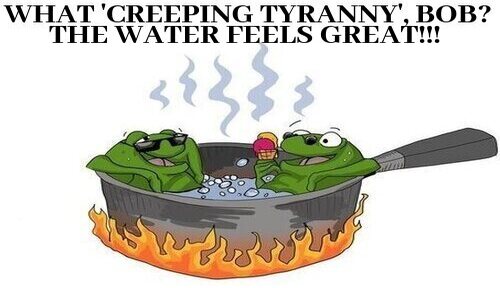 And while 
Defense One
 and 
the Daily Mail both report
 that the US Army is set to 
announce it has developed a single vaccine that protects from ALL variants of COVID and SARS, 
with the Walter Reed Army Institute of Research working on their vaccine for two years, we warned just 3 months ago we should be highly suspicious of any further militarization of the government's response to all of this.
With Biden announcing they'll be sending out millions of free COVID testing kits to the nation (we wonder how many of those will end up immediately in the trash can!), while announcing they'll be sending 1,000 US troops to 'overwhelmed' US hospitals (we wonder how 'overwhelmed' they'd be if the globalists didn't declare war upon doctors and nurses who refuse 'the v..'), we'd warned on ANP back on September 17th to be on the lookout for the 'normalization' of Americans seeing the US military on the streets of America.
So with Biden also announcing they'll be setting up federally run COVID testing sites across the nation another sign of what is ahead for America, as we had warned in this September 17th story titled "A Huge Wake Up Call: The Globalists Just Showed Us Their Cards, Normalizing Americans To Seeing The Military Upon The Streets Of America, As Despotism Is Rushed In", 'incrementalism' has turned America into a frog in simmering water, just before the deadly boil.
Because with the mega-corporations, many small businesses, US school systems and government agencies happy to bring in the National Guard to do the jobs that they've fired those from who refused the 'v..', that 'creeping incrementalism' we'd warned of back in September is quickly turning into a full-scale gallop, and most still don't even recognize what's unfolding before their very eyes.
So with much of America just like that frog in the nice, warm water, leisurely kicking back and chilling out before realizing far too late what's hit them, we'll continue to pay very close attention to what's now happening in one state after another, with surely more to come, as Just the News reports in this new story titled "Vaccine mandates, staff 'burnout' thin healthcare workforce, as states turn to National Guard – Governors deploy teams to fill both clinical and non-clinical roles" excerpted below.
National Guard teams are being used as a stopgap to fill both clinical and non-clinical roles. 
Critics attribute the spreading shortages of trained healthcare personnel to involuntary employee terminations for noncompliance with harsh public and private vaccine mandates, while healthcare administrators and Democratic officials tend instead to cite voluntary departures triggered by pandemic-related "burnout." 
In New Hampshire, the National Guard was deployed to provide nonclinical support at medical care facilities whose staff are suffering primarily from "burnout," according to local news reports. With the majority of healthcare workers having received both COVID-19 shots and the state having a new "medical freedom" law, shortages appear to stem from increased retirements and those leaving the profession. 
In addition to the National Guard, FEMA medical professionals are also providing support, and the state is spending $6 million of federal relief money to recruit healthcare workers from other states and hire new staff. 
In July, Republican Gov. Chris Sununu signed into law a medical freedom bill ensuring that unvaccinated residents wouldn't be denied access to public facilities and services, essentially banning vaccine passports. The law allows state hospitals and county nursing homes, schools, childcare providers, and private businesses to impose vaccine requirements, as long as they offer exemptions for religious beliefs. 
In Indiana, the National Guard was called up to provide clinical and nonclinical support at 13 facilities within the Indiana University Health system, the state's largest hospital system. IU Health is left to face what officials are calling "all-time highs" of COVID and non-COVID patients with a reduced staff after the network fired roughly 125 employees for not complying with its vaccine mandate. 
The loss of workers to vaccine mandate noncompliance was contributing to the state's staffing crisis, the Tribune Star reported. The state's hospitals are also having difficulty hiring temporary staff due to staffing agencies charging at least three times more than their normal rates due to the high demand, the outlet found.
Read More @ AllNewsPipeline.com