by Stefan Stanford, All News Pipeline: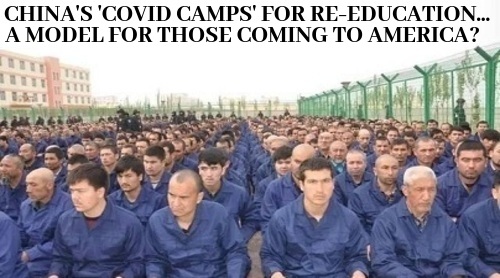 In a new story over at the Epoch Times that the Liberty Daily had linked to on Thursday titled "Penn State Employees Who Refuse Vaccination Face Reeducation", their story reports that despite a Federal Judge declaring 'Brandon's' vax mandate as un-Constitutional, that Pennsylvania University will continue to enforce that mandate anyway for their employees.
Reporting within that story that so-called 'non-compliant' faculty must meet with an executive within 48 hours "to discuss their intent to be fully compliant", with 'further administrative actions discussed individually during the meeting and the 'expectations' for progress toward compliance, notice how all of this sounds like wording used by dictatorships, which demand 'compliance' from their subjects/slaves.
TRUTH LIVES on at https://sgtreport.tv/
Warning with that story that employees who don't 'comply' face the potential for unpaid administrative leave, and other disciplinary steps up to, and potentially including, termination, that story also reports that students at the University who are on wage payroll who 'demonstrate no steps toward compliance' will no longer be given work starting on January 4th and until further notice, we're witnessing nothing less than Penn State U attempting to force 'compliance' through starvation should those students not find other jobs or income.
With that University actually mentioning a '5-day re-education period' for those who refuse to 'comply' and 'get vaxxed' sounding like something that would come straight out of the mouth of Hillary Clinton, Adolf Hitler or any number of other mouths of the 'radical left', as one of the commenters pointed out on that story, this is pure evil. That comment before we continue.:
Richard Nickelson − This just goes to show you how evil, really, is our medical system, government, the CDC and politicians. 
They have suppressed viable, proven COVID therapeutics throughout the pandemic, letting 10,000's suffer and die, just to protect their ability to fear monger and keep control of us. 
And, probably all involved are getting rich off the vaccine. 
Really, they are complicit with causing these deaths, murder if you want to call it that, and should be able to be held accountable. 
These are despicable human beings that we have in charge of our systems and institutions. 
We agree with that comment above completely. And as another commenter on that story so perfectly pointed out, "Ah yes. The ministry of misinformation dictates miseducation. Of course they do."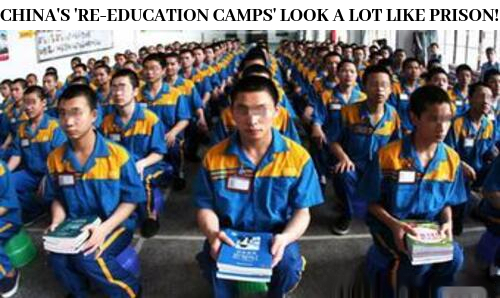 So what might 
're-education
' at Penn State University look like? From 
this Epoch Times story
.:
Technical service employees will get a "five-workday period of education, including providing noncompliant employees with information regarding the benefits of vaccination and ways to obtain the vaccine. After the period of education, technical service employees will have one calendar week "to demonstrate progress toward becoming fully vaccinated or they will be placed on a two-week unpaid suspension. Continued noncompliance following the suspension will result in termination of employment. Employees will be permitted to voluntarily resign, or if eligible, retire before facing involuntary termination of employment." 
Already, some members of Penn State's recently formed employee group of medical freedom advocates, Lions for Liberty, have reported uncomfortable conversations with their supervisors about vaccination status and their intentions to comply. 
What will a five-day reeducation period look like? 
"Regarding the five-day education period for some employees, it is intended as an additional defined period of time when the university can provide information related to COVID-19 vaccination to those employees who still have questions and concerns at that time," DuBois said. "The university has a host of information already available to its employees, which they are encouraged to review, and this five-day period of time offers an additional opportunity to provide employees with information and resources to learn more about vaccination. 'Five days' is not intended to mean that employees will be in an education session during that entire time, but rather that that is when additional education and information will be provided to these employees, if necessary." 
Reeducation may be a new trend. 
In a White House press briefing last week, Jeffrey Zients, White House coronavirus response coordinator, indicated that some folks may just need a little more convincing, and education may be a path to more vaccination compliance. 
"To be clear, the goal of vaccination requirements is to protect workers, not to punish them," Zients said. "We continue to see more and more federal employees getting their shots. And for the small percentage of employees who have not yet complied, agencies are beginning the education and counseling process. Looking at the federal workforce vaccination data makes one thing obvious: vaccination requirements work. They encourage more people to get vaccinated. Vaccination requirements are good for workers and the economy. They protect our communities and country, and they will accelerate our path out of the pandemic."
They 'work'? Then why are so many of the fully vaxxed still getting COVID and passing it along to others as we'll explore more in the next section of this story below? We'll also explore several more recent stories which suggest that 're-education' is definitely the way we're headed, although the American people will clearly NEVER put up with blatant, in-your-faces tyranny here like they do in China and elsewhere in the day and age of COVID-19 implanted fear.
Read More @ AllNewsPipeline.com