by Craig Hemke, Sprott Money: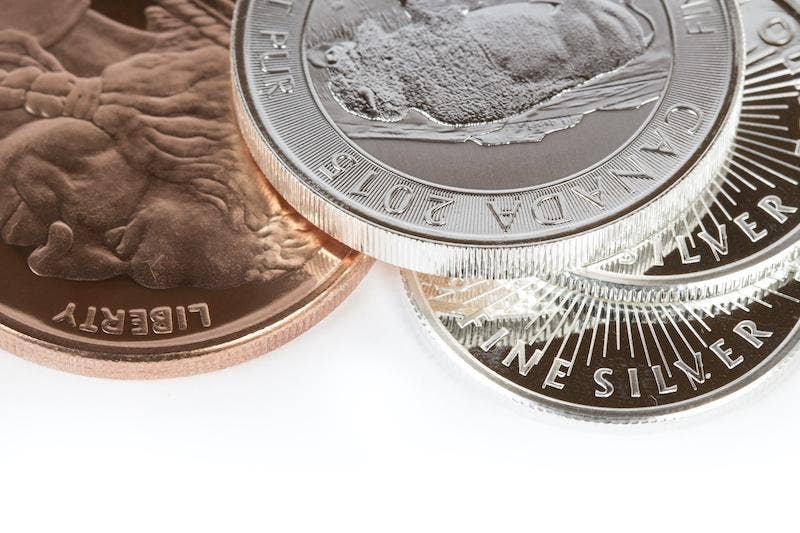 The year 2021 was a challenging year for precious metal investors and a particularly disastrous year for those of us who make a living trying to forecast precious metal prices. So what went wrong and how can we do better in 2022?
Let's start with this: COMEX gold began 2021 at $1906. As I type on December 21, it's trading at $1790. That's a drop of $116 or about 6%. COMEX silver is even worse. After beginning the year at $26.50, it's currently trading near $22.50 for a loss of about 15%.
TRUTH LIVES on at https://sgtreport.tv/
After a run of four pretty good years, my TFMR annual "macrocast" for 2021 was a disaster in terms of price prediction. But I wasn't alone. Check this list of major Bank and sell-side analyst predictions for silver in 2021. While I'm not sure I want to keep company with these people, we certainly all find ourselves sharing the same boat.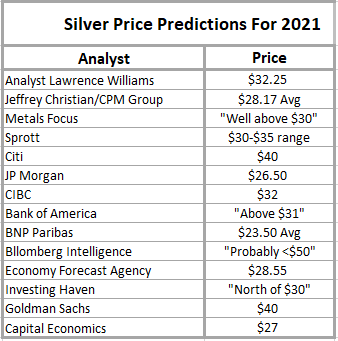 Now, you could be cynical and play the "nobody knows anything" card or you might also state that trying to forecast prices in a heavily manipulated market is a fool's errand. And perhaps you'd be correct to some degree. But for yours truly, this was the first annual forecast in five years that I absolutely blew. Maybe my streak was simply due to end?
So what happened? How and why did many of us get 2021 all wrong? That's a perplexing question, because so many of the macro conditions that we discussed in the 2021 macrocast played out as expected. See this screenshot from the 2021 report that was published in early January: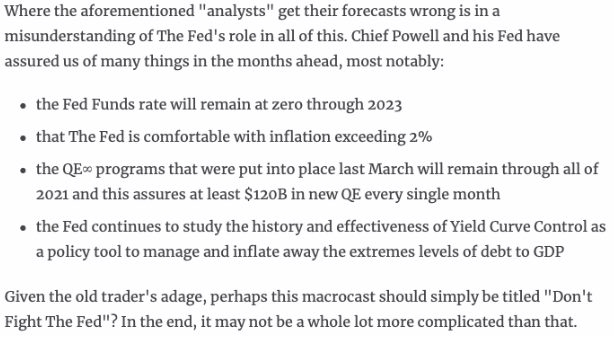 And I think what I got wrong was underestimating my own advice written in the screenshot above. Don't Fight the Fed! What do I mean by that?
As inflation surged and real interest rates plunged in April, the Fed began to claim that all of these issues would be "transitory", and they maintained this position all the way to December.
Inflation spiking? Don't worry, it's transitory.
Supply chain bottlenecks? Don't worry, it's transitory.
Soaring commodity prices? Don't worry, it's transitory.
Plunging real interest rates? Don't worry, it's transitory.
And you know what? Everyone believed them! Well, not everyone…but the hedge fund managers and institutional traders that make up the majority of the "Large Speculator" buyers of COMEX gold and silver futures clearly believed them. And so, even with all of the traditional and fundamental factors flashing BUY GOLD in 2021, gold and silver prices actually fell.
So why did prices fall? In the end, it's really not that complicated. In COMEX precious metal futures, there were simply more sellers than buyers. And why were there more sellers than buyers? Because the traditional buyers fell for the lie from the Fed that all of the gold-positive developments were "transitory".
Now here comes the fun part. As mentioned earlier, Powell and Yellen both swore off the term "transitory" earlier this month, so the year 2022 looks to be a puzzle to be solved through the simple answer to a few binary questions:
Will the Fed taper and tighten in 2022?
If they do, will this lead to lower inflation and higher real interest rates?
If they don't, will inflation persist and worsen while the all-important "inflation expectations" surge to catch up?
Answer those three questions correctly and you'll be well on your way to a successful 2022 forecast.
We'll have our latest annual forecast for you in a few weeks. For now, though, let's close with one more screenshot from the 2021 macrocast. While the quality of our price predictions may vary from year to year, the "advice" below is timeless.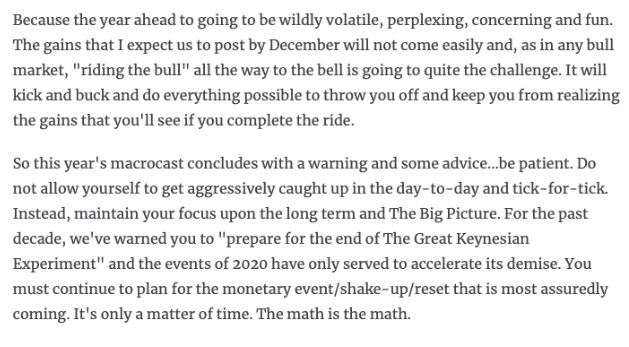 Happy Holidays, everyone. I hope you are able to rest and relax. However, be sure to come back in a few weeks energized and ready to tackle what will be an incredibly volatile and challenging 2022.