by Emma Jo-Morris, Breitbart: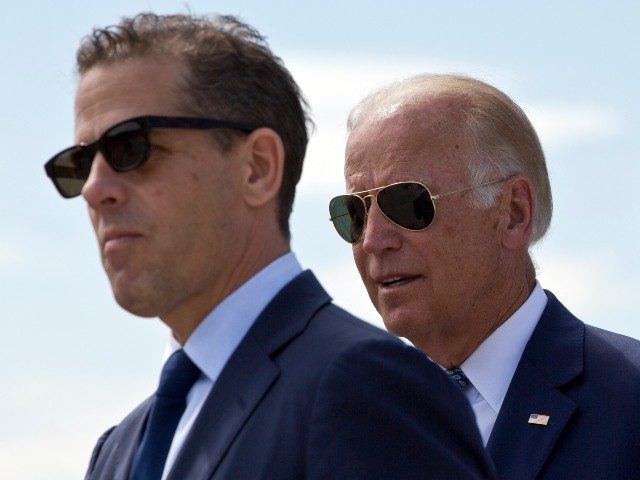 The Biden family was set to benefit from a deal to transfer American natural gas to Chinese energy company CEFC, through a prospective 2017 deal by Hunter and Jim Biden, according to newly uncovered documents — as the Biden administration now massively scales back United States energy production.
Documents never previously reported on, from the infamous "laptop from hell" belonging to Hunter, show the Biden scion was working on a deal in 2017 to transfer liquid natural gas from Louisiana to CEFC — the same Chinese firm with which Hunter also discussed a business venture that would have "10 [percent] held by H for the big guy" — but the deal never materialized.
TRUTH LIVES on at https://sgtreport.tv/
That wouldn't stop the Chinese players in the deal, however, from going on to push Hunter to help his father mount a bid for president years after.
In an email from October 23, 2017, an intermediary by the name of JiaQi Bao, between Hunter Biden and his Chinese business associates, sent an email thanking Hunter and Joe Biden's brother, Jim, for arranging a meeting with Greg Michaels, the president of a natural gas liquefaction facility in Louisiana called Monkey Island LNG, and detailing plans for what will be discussed.
"We have a 10:30 meeting tomorrow @ 3CC with Greg Michaels, the president of Monkey Island LNG Terminal project in Louisiana. Thank you for Jim and Hunter for bringing the owner to talk to us directly," she writes in an email received by Hunter, Jim, and Gongwen Dong, a Chinese investor involved in multiple deals linked to the Bidens.
Leveraging the family name to secure high profile meetings for foreign clients was not just a good deal for Hunter and Jim Biden.
It has been previously reported by the New York Post that Hunter was responsible for family expenses — with Hunter once telling his daughter that he has to "pay for everything for this entire family."
The Post reported in July:
'I hope you all can do what I did and pay for everything for this entire family for 30 years,' Hunter wrote in a 2019 text message to his daughter, Naomi, that was found on his abandoned laptop. 'It's really hard. But don't worry, unlike Pop [Joe], I won't make you give me half your salary.'
In another email on October 29, 2017, Bao writes to discuss plans for the business venture, saying Hunter is the best person to help his "friend," CEFC chairman Ye Jianming, because he has "access to decision makers" required to approve the transfer of essential natural resources to foreign entities.
"Through you and Uncle Jim's connection, with Monkey Island/Magnolia/Project ABC as a starting point / talking point, we can check out a lot of all other interesting Louisana/Taxes/Gulf of Mexico U. S. projects [sic]," Bao's email begins.
"You are the best person to help your friend Ye to do that, because you know a lot of folks in the area and you have the access to decision- makers / helpful local folks with insight about the region," she continues.
The junior Biden's "friend," Ye Jianming, was connected to the Chinese Peoples Liberation Army before he was mysteriously detained in China in 2018, and CEFC is now defunct, according to various reports.